Once you have created a winning brand and launched your clothing brand, the next biggest challenge (besides making sure that your collections are getting made on time and within budget) is to market your clothing brand.
These days, unless you have a ton of money, the best way to start promoting your clothing brand is via online marketing and social media engagement. In fact, more and more people are buying clothing online and so it is so much easier than trying to reach your target audience via retail and traditional outlets.
Although the topic about marketing your clothing brand is vast and needs a series of in-depth articles to really do it justice, I decided to start the conversation in this post with just 5 killer ideas that you can start implementing in your marketing right away. In future episodes of this series, I will take a deeper look into the vast landscape of promoting and marketing your business.

Case Study: With this Indian fashion brand, we created a superb brand strategy, brand name, tagline, brand identity, and website design. As you can see the tagline is catchy and positions the brand away from the competition.
Idea #1: Create A Catchy Tagline
The one thing that you can do right now and create a differentiation factor for your brand is to come up with a tagline, slogan or rallying cry that would connect emotionally with your target market. For example, if you are targeting a female audience who love to travel, you can think of ideas to rally them on a common cause. This could be freedom in travel. Or perhaps the empowerment that one gets by traveling around the world. So something like "Travel With Attitude" or "Wear The Power" could be a great tagline that is catchy and also add a different dimension to your core brand.
Here are some examples of great tag-lines of clothing brands:
Levi's – A Style For Every Story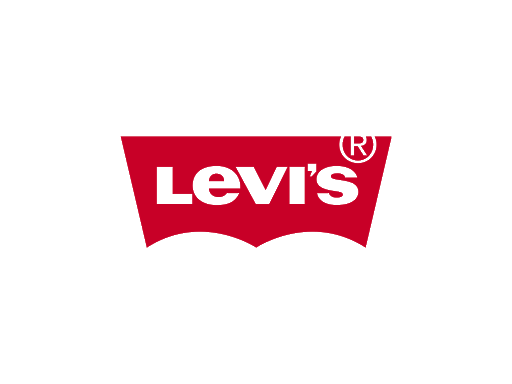 A great example of a clothing brand talking about stories and storytelling. With this slogan, Levi's is tapping into the fact that every one of us has stories in our lives and they have a style to match each one. It is tough to market such abstract brand messages but Levis has done is quite well due to their legacy and history. Even if you are starting out, you should focus on the stories of your customers and their world view.
Alexandra – Clothes that mean business
Alexandra is a brand that specializes in workwear clothing. And their tag-line points that out in no uncertain terms. You want to mean business, wear Alexandra! However, the logo design may seem to be misaligned as the font used is very relaxed and there is nothing business like with it.
Jantzen – All girls are gorgeous in Jantzen
Swimwear pioneers, Carl Jantzen, Roy, and John Zehntbauer started Jantzen in 1901 and did not have a strong slogan till the 1960s when they launched their "Just Wear a Smile and a Jantzen" campaign. They followed this with another gem – "It Must Be Magic" in the 1990s and then the latest one "All girls are gorgeous in Jantzen" which is a sublime slogan that positions them neatly into the noise market. You can see their logo design is also very vintage and whimsical with a cartoon like icon. Check out their website to learn more about the brand history.
Diesel – Be Stupid
"Be Stupid" is a campaign launched by Diesel in 2010 that encourages consumers to take risks and move beyond the smart and sensible track for life. This is an evocative slogan and would only suit brands that use negative marketing as their go-to strategy. Clavin Klein tried in a marketing campaign in 2016 where they had a tag line "I _____ in my Calvins" which did not bode well due to lack of creativity or wit. Evocative marketing requires creativity.
Calvin Klein – Nothing comes between me and my Calvins
A humorous slogan that also connects distinctly with the audience. On the one hand, it makes one nod their head and think that is true how they feel and on the other, they make one think that perhaps they too should feel like that about their Calvins! Brilliant marketing strategy. As mentioned above, not all Calvin Klein campaigns or slogans work. In fact, after the Brook Shields adverts and the later sleazy campaigns, most of Calvin Klein's marketing campaigns have diminishing returns.
Lee. The jeans that built America
Here we see the concept of brand heritage come into play as Lee announces to the world that Lee jeans were what almost everyone used to wear as they built the American railroads, towns, cities and more. Heritage branding is very powerful but should be done very carefully. The message should be crystal clear and focus on communicating the power of heritage in the modern world.

Idea #2: Use Social Media To Tell Your Story
In later episodes of this "market your clothing brand" series I will talk in-depth about each of the major social media platforms. Here I will just write a short intro. Everyone knows the importance of social media in marketing their brands. But the difficulty comes in not knowing how to use social media effectively. The ROI of social media is very low – at least in the short term. Unless you are in the long game, it would seem that time and money is wasted on social media.
The best way to approach social media as a marketing tool is to consider it as a storytelling medium.
So how do you do that?
Construct a robust brand story and then think of ways to tell that story on your social media channels. This means that every post, tweet, share or like has to align with your brand story and express the personality of your brand in one way of the other.
For this to happen you would have to formulate your brand story as a series of expressive ideas.
Here are a few examples of great brand stories by some popular fashion brands:
Everlane –  Know your factories. Know your costs. Always ask why.
This brand tells the story of ethical factories, finest materials, and radical transparency. A lot of fashion brands claim they use the finest materials but most do not talk about the factories they use, the conditions in those factories and possible exploitation. This is where the story of radical transparency come out and Everlane uses this story to position itself squarely in the minds of the ever-growing percentage of people becoming eco-conscious and looking for sustainable and responsible commerce.
This is what they say on their about page about their differentiation:
"We spend months finding the best factories around the world—the same ones that produce your favorite designer labels. We visit them often and build strong personal relationships with the owners. Each factory is given a compliance audit to evaluate factors like fair wages, reasonable hours, and the environment. Our goal? A score of 90 or above for every factory."
Warby Parker
This eyewear brand tells the story of how it was created to fight the status quo of expensive eyewear and how one company held a monopoly over the market. This is what they say in their own words about their value proposition:
"By circumventing traditional channels, designing glasses in-house, and engaging with customers directly, we're able to provide higher-quality, better-looking prescription eyewear at a fraction of the going price."
They continue this story by supporting the non-profit organization called VisionSpring and distributing a pair of glasses-free for everyone pair sold.
Chubbies Shorts
Lets look at a brand that is quite different to the above ones. Chubbies sells shorts. It is a very quirky and fun brand with a brand story that is fun and does not take itself seriously. Chubbies believes in a lot of things but you can get an idea of how their quirky they are when they say "We believe in our fathers – they led the way; we are but revolutionaries standing on the shoulders of amazingly mustachio'd giants in proper length shorts". Their social media posts are also quirky. They post famous people in funny little shorts.

Idea #3: Launch Your Brand With A Giveaway Campaign
Giveaway campaigns are very powerful and if done properly can result in a ton of exposure for your clothing brand during the first 4 weeks of launch. During this critical initial period, it is all about gaining brand exposure. Most businesses look for sales and do not think of the bigger picture. Don't get me wrong. Sales are important but during launch and even later on, brand exposure should trump short-term sales.
Come up with unique ideas for giveaways. This could be your own products or other prizes. The important thing is that you should promote the giveaway campaign heavily on your website, social media channels and other PR.
Simple Giveaway Contests
A good example of a give away contest that is simple and does not require too much prep work or inventory hassles can be seen in the #buckswinyouwin campaign by Tampa Bay Buccaneers. Essentially customers got free shipping if the Bucks won the game. A simple and yet very effective campaign to create a conversation and give away something that is clear and understandable.
User Generated Content
Some brands come up with campaigns that are so complex you would need a college degree to get a hint of what it is all about. Here is a campaign by Back Country with the hashtag #goatworthy. Unless you are an ardent fan of the brand, it is hard to make what the contest is about is and why they are giving away what they are. Make your give away campaign related to your brand offering while still keeping it simple enough to garner user participation and user generated content. In fact, investing in campaigns that give you user generated content such as comments, photo posts etc is worth its weight in gold. It creates the buzz needed as well as help your brand shine through via the platform algorithm.
Idea #4: Find A Promotional Partner
It is natural to look at all other players in your market segment as competition. But if you pause for a second and pay attention, you will find businesses that could be competitive but also partners. For instance, if you find a brand that specialises in swimwear but also has other items that are similar to yours, it would be a great idea to partner with that brand and cross promote offerings.
The power of partnership in the fashion and apparel industry deserves a separate post of its own. But keeping an eye out and actively seeking partnership opportunities can do wonders to your promotion and bottomline.
These days it is ever more important to leverage the influencer system on social media to get your brand noticed. Gen-Z target audience depend on and believe in social proof and recommendations almost completely and influencers play a vital role in filling that gap.
Even huge brands partner together occasionally to expand their mutual influence. For instance, Louis Vuitton and BMW came together in a partnership to create an exclusive range of luxury luggage products crafted in carbon fibre of the launch of BMW i8.
Another awesome example of seeming unrelated competitors partnering is Alexander Wang and H&M. Alexander Wang sells high end products and their shoes can start from $350 while H&M sells low end products with prices in the range of $35 per pair. But this kind of contrasting pairing benefits both brands – in the case of H&M, it positions them as trendy, fashionable and not boxed into the budget segment whereas for Alexander Wang, this partnership exposes them to a whole new set of audience and market segment.
Idea #5: Find influencer talent on YouTube to be your brand ambassador
If you have the money to go after well-known celebrities, that is great. If not then don't wait till you have a lot of money to consider celebrity endorsement strategies. Scour Youtube and identify up and coming talent that aligns with your brand and talks to them about cross promotion. Nurture and encourage the talent so that when they do make it big, your brand gets the exposure that would be hard to achieve in other ways.
This may sound like a difficult strategy but it is guaranteed to give you an awesome ROI.
There are tons of examples of clothing and fashion brands partnering with Youtube influencers to reach their target audience. For instance, Calvin Klein sponsored Lauren Elizabeth who has over 1.2 million followers on Youtube to create a video about her morning routine. In this video, Elizabeth shows off her Calvin Klein underwear while casually talking about her routine.
[vc_empty_space]
Denim partnered with Jenn Im who has over 2.7 million followers on Youtube to create a video on the diverse line of Denim jackets. With almost half a million views, this video is an advertisement for Denim in he guise of fashion advice.
Fundamentals Of Marketing Campaigns
Unless you have a huge marketing budget, it would be safe to assume that the best place to begin your brand marketing journey would be online. With some guerilla marketing techniques and some old fashioned hard work, you can really reach your target market and generate enough interest in the brand to create a snowballing effect.
BUT before getting in the juicy details of how to market your clothing brand online, let us look at some fundamentals that needs to be carefully addressed to ensure your marketigng campaigns bear fruit during launch and later.
These fundametals include the following which will be explained in more detail below:
1. Determine Business Goals
2. Select Campaign Media
3. Identify Target Audience
4. Competitive Positioning
5. Online Channel Creation
6. Content Creation
7. Online Engagement
[mk_padding_divider]
Determine Business Goals
Before you begin any marketing, it is critical that you figure out and identify your business goals. It is not enough to simply know that you want the business to take off, get a lot of customers and make a ton of profit. You will need to dig deep and have a very detailed and specific list of business goals that are laid out on a reasonable and doable time scale.
Depending on your business goals, there are different kinds of marketing campaigns you can undertake. Here are a few examples:
Generate new leads
To generate new leads you can look at generating targetted traffic from Google and Social Media.
Qualify leads
To better qualify and rank leads so you can segment them and then follow up based on their timeframe and their likelihood of buying.
Nurture existing leads
To communicate with leads that are in the pipeline but may not be ready to buy or to take the next step; a nurturing campaign reminds them of your value and provides information that can help move them along.
Direct sales
To close deals within a short time period – a campaign to encourage people to "buy now."
Up-sell existing customers
To encourage current customers to upgrade their existing product, to increase the quantity or frequency of their purchases.
Nurture existing customers
To communicate with existing customers and reinforce the value you provide.
Generate referrals
To encourage customers or prospects to supply you with qualified referrals.
Branding
To increase awareness of your company, product and/or people in your market; to communicate the value you provide and what you stand for.
[mk_padding_divider]
Select Campaign Media
Once you have established the list of business goals you have and identified the marketing campaign ideas, it is time to select your campaign media. This includes both online and offline media channels.
For generating new leads for your clothing brand, here are a few channels:
1. Online advertising
This channel involves running adverts on targeted websites or through email newsletters. The advatage with this channel is that it is targeted and measurable and it is east to test and improve. However, since you are driving them to your site and site has to convert your website needs compelling messages and great converstion optimization.
Here is an article on how to grow your business with out spending more on advertising.
2. Email campaigns
You can either buy or rent a subscriber list or use an in-house list to send a short but compelling email. This is about building a brand recall and trust with your target market. The advantage is that it is very targeted and measurable and easy to test and improve. However, again since you are driving them to your site, your website has to convert and this should be implemented through an email service provider.
Here is a primer on email campaigns for your online shop.
3. Organic search
This is one of most popular methods of getting traction online. You would need to "Optimize" your website so it ranks high in search engine results for your targeted keywords. This method is extremely timely and brings qualified prospects straight to you and can generate a lot of traffic to your site. However, the website needs to be carefully designed and updated regularly. You will also need to use other Internet marketing techniques to raise your profile. It can be quite difficult to rank for anything except very targeted words.
4. Viral campaigns
By using social media channels such as YouTube, Facebook, Twitter, Pinterest and Instagram to post entertaining videos or memes that relate to your clothing brand, you can create interest online and if you can make it viral, then you are guaranteed sharing and traffic. With this method, you can reach a wide audience in a very short period of time. However, the campaign needs to be very creative and catchy. You also need good offers and a good website for visitors who take action.
Here is an ecommerce guide to going viral.
5. Blog & Social Media
Creating compelling posts on a brand blog is the fundamental way to ensure you get traction online. By having a frequently updated blog and using social media to promote your blog posts, you can reach targeted audiences and establish credibility and position your company as a leader in the industry.
Here is an article on how to blog for your brand.
[mk_padding_divider]
Identify Target Audience
Understanding your target market thoroughly is the single most critical thing a business owner could do to help their brand on the road to success. Most often than not, small business owners think that they know who their target market but in most cases the net is wide that they struggle to achieve success.
Targeted marketing is essential to success because it will allow you to get the most out of your marketing and lead your business in the right direction. If these tips seem confusing, it may be time to talk to a branding expert about how to develop and market your small business brand.
[mk_padding_divider]
Competitive Positioning
The most critical aspect of your brand is answering the questions: What sets your product, service and company apart from your competitors? What value do you provide and how is it different from the alternatives?
Most businesses can not answer this questions honestly or with conviction. At SpellBrand, we helps clients define how they "differentiate" their offering and create value for their market segment. It is about carving out a place in the competitive landscape and having a laser like focus to deliver on the brand promises that are made.
[mk_padding_divider]
Online Channel Creation
As long as there will be online users, small businesses have a chance to compete with more established brands. They don't need to have immense resources to purchase airtime for advertisements. A small company only needs to have distinct ways of standing out among the competition. All it should take are qualities such as out-of-the-box creativity, dedication and proper brand presentation.
Click Here to read about some neat ideas on social media channel creation.
[mk_padding_divider]
Content Creation
Here are the main ways you can create content and deliver them to your target audience. Please note that although it is advisable for you to write content by yourself or perhaps other members of your company, if you feel that you do not have the skills or the inclination, you can always hire qualified freelance writers who would work with you to create content that resonates with your audience.
[mk_padding_divider]
Online Engagement
Believe it or not, Facebook isn't just for cat photos, news articles, selfies, and ads. Businesses like yours can actually generate customers from Facebook – as long as you're using the right approach.