I am sure by now you would have been totally aware that Instagram is a top social media platform for fashion, apparel and clothing brands. If not then it is time you became aware of the power of Instagram to help you market your clothing brand effectively.
No article on any social media platform would be complete with out a little intro of the platform itself. Instagram has over 400 million active users worldwide (as of 09/22/2015) with over 75 million daily users. This translates to over 20% of the internet users use Instagram!
In the US alone there are more than 77 million Instagram users – that is around 27% of the total US population! Of these, over 49% are female users. Instagram users generate over 3.5 billion likes per day!
Ok, I will stop with the numbers and statistics. I just want to illustrate the power and reach of Instagram. For Clothing and Fashion brands, Instagram is a must use channel because of the type of people hanging out there.
The general audience on Instagram are usually interested in fashion, lifestyle, beautiful photos and having fun. By building a loyal audience on Instagram and engaging with them properly, you will start seeing sales of your clothing or fashion items take off.
Here are some tips on marketing on Instagram:
Tip #1: Create a powerful profile
This is social media 101. On any channel, and more so on Instagram, you must ensure your profile is highly optimized. This means you need to think hard and long about the cover images, avatar and description about your brand. Always link to your website or your clothing ecommerce store in the bio. You can ask your followers to "Tag us with #yourbrandname so we can see your shots!" to create an extra level of engagement right in the bio. Here is an example of how Pendleton brand does it so well on their Instagram account.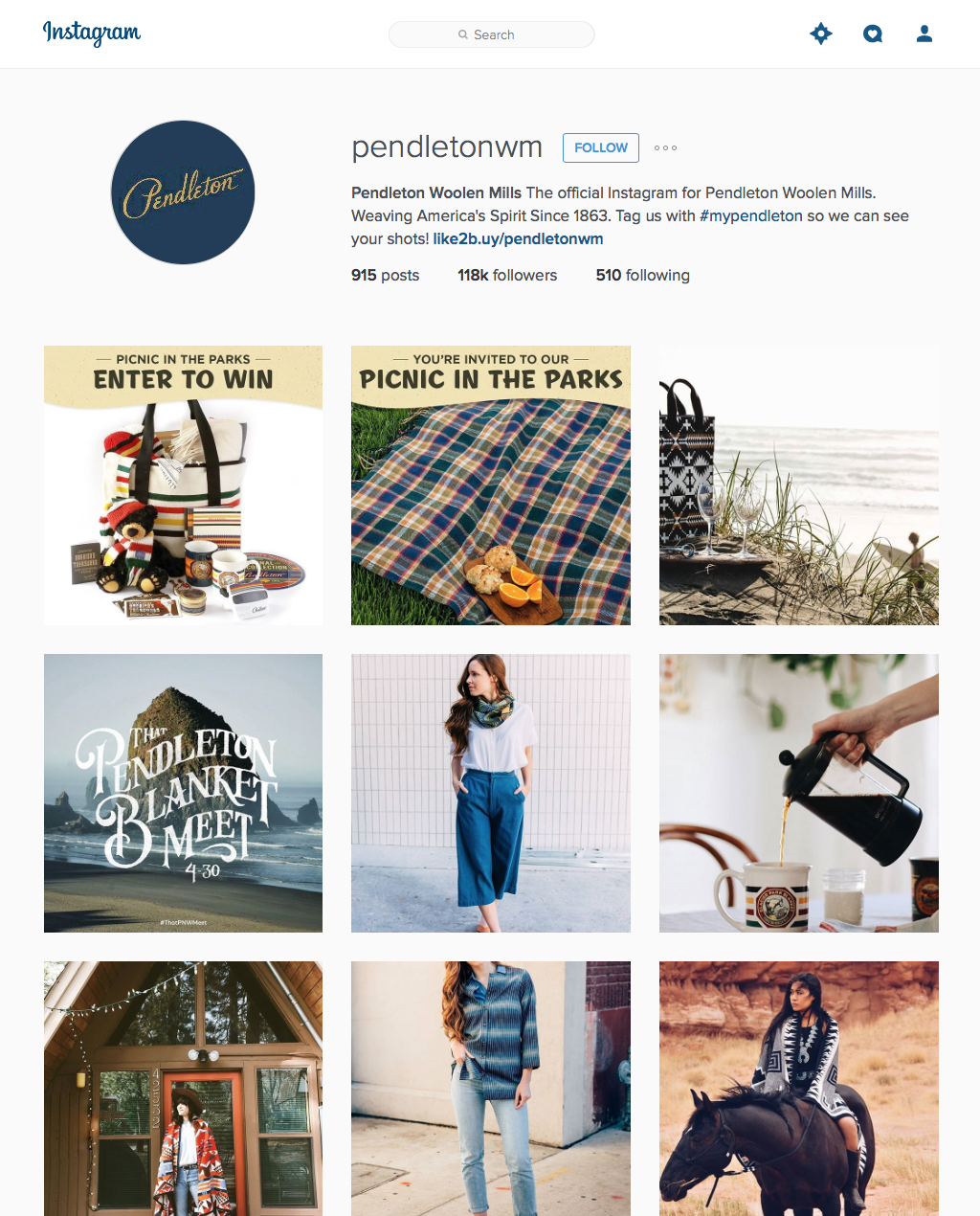 Tip #2: Tell Your Brand Story
What ever you post on your Instagram account, always make sure that it is aligned with your brand story and communicates that in one way or another. If you want people associate a hipster lifestyle or West Coast cool and philosophy with your brand then all your posts must in some form or shape have that hipster element. Vans is a brand that does it well on Instagram as you can see in their posts below.
Tip #3: Use Hashtags
To make sure your brand is found by your target audience, each of your posts must not only have a witty and fun title or description, but also a decent amount of related hashtags. Unlike Twitter, you are not limited to character count on Instagram and so you can take your space with as many hashtags as you want. A word of caution though – do not overuse them.
Also develop brand specific hashtags for each of your items or collections and each time you post about that item or collection, use that hashtag along with others. If some one buys that item and posts on Instagram, they may be tempted to use the brand specific hashtag or you can encourage them to do it.
Here are some great examples of hashtag usage.
Tip #4: Brand Your Photos
When posting your product or other photos, try and achieve a look and feel that is consistent through out your Instagram updates. This could be achieved via a consistent use of one or more filters. Or you could create a distinctive look that does not rely on the standard filters and add transparencies or such.
Here are a couple of examples.
Tip #5: Post Product Videos
Video content gets a lot of engagement. Shoot short clips of your clothing items – either on their own or on models and post those video clips on Instagram. This will not only make your brand authentic but also create a strong connection with your audience.
Here are two examples of such videos:
Tip #6: Giveaway Contests
Giveaway contests are quite popular on Instagram and the return on investment is quite high. For a relatively low cost of  the price of your product you can get a lot of brand exposure. You can either give away your products directly or a gift card or coupon that can be used on your online store.
Make the contest fun and related to your brand and story. Perhaps it could be a poll or a mini quiz. Do not make it too complex. A great idea could be asking your followers to post a photo of them wearing your product and the best one gets a coupon to buy more stuff on your website. It could also be as simple as asking people to follow your profile and tagging 3 friends in the comments – as done by ShopJoyWorks below.
Here are two such examples:
Tip #7: Behind The Scenes Updates
A great way to engage your audience and make your brand look authentic is to post "behind the scenes" updates. These could be photos of your apparel design process or photos of your manufacturing process. It could even be photos of your stock and packaging process.
On a more personal level, you can post updates of your business, your staff and team, your office or warehouse.
Here are a couple of examples:
Tip #8: Celebrate Your Followers
Every week post updates thanking and mentioning your top followers. Find followers who are engaging with your brand the most and announce them. Follow their Instagram accounts and like their updates and post comments where ever appropriate.
Here are a couple of examples:
Tip #9: Leverage Trends
Watch out for trends related to your brand story and the post updates that are witty and clever while relating to the trend. For example, for the ice bucket challenge trend, you could post an update with a photo of one of your clothing items perched on top of a bucket full of ice. You should post the updates using the trending hashtag.
Here are a couple of examples:
Tip #10: Help Other Brands Get Exposure
Do something that most other brands won't do – help other brands in your sector get exposure on Instagram by sharing their updates. This does not necessarily mean your direct competitors but rather brands in your vertical. By mentioning and promoting other brands, they in turn will mention yours and it creates a networking effect.
On another front it also shows your target audience that you are a generous brand and are not afraid to talk about other brands.
Here are a couple of examples:
Conclusion
Marketing on Instagram can be a very complex topic and these 10 tips are just scratching the surface. My intention with this post was to get you to start promoting your clothing brand on Instagram with some high impact strategies.
Marketing on any social media platform is a long game and you need patience and consistency to see results.
If you need any advice or help with marketing your clothing brand, reach out to us. or you can ping me on Twitter at @bonigala.