« Two Spanish Strategies: Gran Melia Fenix & El Bulli! | SpellBrand Enters Dubai Branding Scene »
Hiroshi Fujiwara: A Japanese designer who seems focused on not being focused!
The other day when I wanted to buy a pair of sneakers for my outdoor activities, like taking Dexter, our adorable pug, out for walks, I surfed on the Net and I came up on an interesting pair of latest Nike sneakers, Sock Dart (release date not announced yet).
I got curious to see two logos/marks on the shoes, the usual Nike logo and a double lightning mark in a circle. I thought this mark was some kind of a feature, like some shock-absorbing feature, and browsed further to find out what it was all about. Soon I came to realise that the other mark was of a designer, Hiroshi Fujiwara, who collaborated with Nike, and I also learned that he wasn't just a footwear designer but a lot lot more. This information kindled my interest so much that I decided to get to the bottom of it.
The story goes like this:
Hiroshi Fujiwara, known as the 'Godfather of Streetwear', brought the Western Style to the Japanese youth. This 50-year-old hip-hop music DJ-turned-fashion designer is known better as the industrial designer for designing not just the clothes but the footwear, a guitar, cell-phone cases and boutiques, and the list goes on. Being the founding fathers of Tokyo's Harajuku culture* and hip-hop era in Japan, Hiroshi held a significant influence over the contemporary design culture.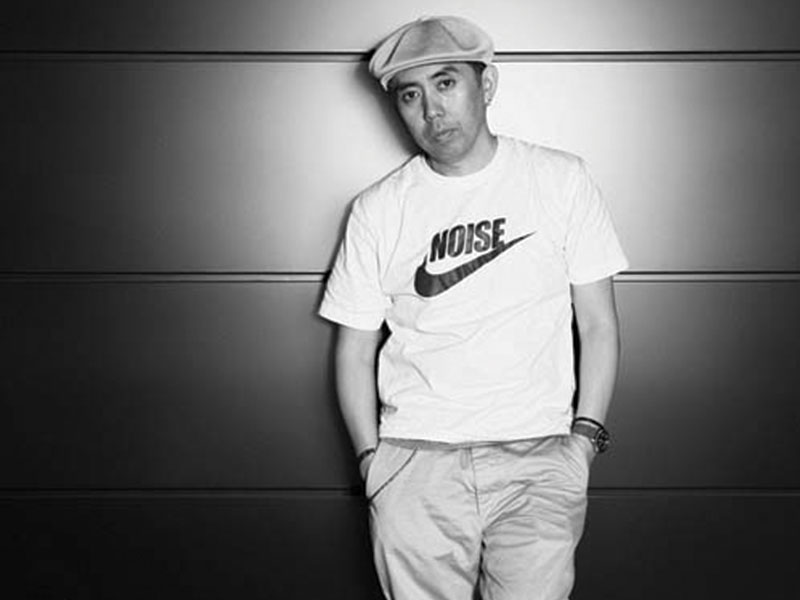 A graduate from a countryside high school in Japan landed himself in London for a fashion contest when he was just 18, and met Malcom McLaren, Sex Pistols manager, who advised him to go to New York where there was a lot of action, and Vivienne Westwood, a fashion designer and businessman who was responsible for the punk and new wave fashions. After returning to Japan from his tour of London and New York, Hiroshi became a DJ, and in 1986 he produced Japan's first hip-hop music album, becoming the first one to mix his own records along with the regular ones.
[quote align="center" color="#999999″]From Nowhere…[/quote]
In 1989, something went into his artistic head and, consequently, with his Head Porter and Good Enough labels, he started his own clothing line at a shop called "Nowhere" in Harajuku area, giving a high-fashion consciousness to the steetwear design with his easily produced T-shirts, sweatshirts and footwear once thought to have been reserved for upend society.
Hiroshi Fujiwara designed a guitar for Eric Clapton, a British musician, songwriter and guitarist, in 2003 and another one in 2006.
He had a cameo role in a movie called 'Lost in Translation' in 2001, and a collectable vinyl toy was made in Fujiwara's likeliness which was so successful that another one, slightly improved one this time, was produced and released in 2009.
In 2008, Hiroshi's Fragment Design collaborated with Stussy, an American clothing brand, on a classic check zip-up hoodie.
In December 2009, Hiroshi designed a capsule collection of graphic T-shirts, hoodies and sweats for BAPE, also called A Bathing Ape, a clothing brand established in 1993, with Fujiwara's Fragment Design logo, a double lightning bolt.
Being interested in punk & hip-hop music, he sings, writes and produces albums… the latest being 'Manners' with his favorite singles like 'Horizon', 'Sophia' and 'f.o.' and in 2013, he released a limited edition box set aptly called 'Box of Manners'.
Hiroshi likes snow and fondly says 'The beauty of snow is (its) coldness and solitude'. He's been known for his snowboarding enthusiasm, and to show that he's designed some snowboards with Burton.
You've a product? He's a design!:
Hiroshi Fujiwara collaborated with Nike, the sports footwear giant, to design Air Footscape, in 2009. Nike and Hiroshi have developed such a close relationship that there is a Nike's high-end limited edition line called HTM — H for Hiroshi; T for Tinker Harfield, the Nike designer; and M for Mark Parker, Nike Inc. President and CEO!
Since then he has became an industrial designer, having collaborations with Nike; Levi's (made a line called 'Fenom' for Levis); Burton, an American snowboard and sportswear manufacturer; Bramford Watch Department on a new Rolex Daytona watch alteration; Apple iphone 5 cases; Cole Haan, originally a footwear brand that has several fashion products and accessories, on their Lunargrad footwear collection; OriginalFake, an American fashion brand in Japan, producing two colorways of 'Baby' graphic T-shirts; co-founding "retaW" (RETAW), a fragrance brand, with another Japanese, Murakami; the Pool Aoyama, another fashion shop in Japan; teamed with Starbucks to design a showroom called 'b—side'; Carhartt WIP, a fashion brand, to design T-shirts and other apparel under the name 'CARFRGMNT', 'Car' in Carhartt and 'Frgmnt' for Fragment Design; Uniform Experiment, a fashion brand, to make suits and ties, supervised by SOPH.Co; and the list is as long as the 'Silk Road'.
Brand Strategy Notes:
To those who have been wondering why I have given such a long list of his collaborations, I have an explanation here: Hiroshi has a fantastic brand strategy and he has what he wants. He gets his designs accepted. He makes considerable contribution in every section of Fashion. He gets more popularity than the corporation brands he has collaboration with.
For example:
you go to Nike's new releases, you see Hiroshi's logo on them;
you go to Levi's, you see Hiroshi's thumb impression on some of its lines;
you browse for leather goods, you see Hiroshi's Fragment Design on them;
You go to a boutique, you see Hiroshi's interior design of the place as well as the lines on the racks;
You get into a mobile, you sit on the designs he made for those vehicles;
You wear a pair of shades, you see his logo on its sides;
You buy a romantic perfume for your date, you hold a Hiroshi's design; and
You want to keep your iphone in a case, you buy one that Hiroshi designed.
And whenever those brands make profits, which happens more regularly than we can imagine, his coffers get filled, too. So why do you need to sweat on keeping a large factory/company/brand and fret over it and the employees who give more irritations than ideas?
He confessed in one of his interviews that he did not like to have a large company and hire a lot of employees, and that he felt better being a solo operator, and so sold his ideas to other companies on percentage basis so that there was almost no risk or heavy responsibility.
Never Left His Origins:
He kept his past alive in him. He started his career as a DJ and brought a radical change in Japanese DJs. Though there was a break in his music side for a while, he has brought out several solo records. He released an album called 'manners' in 2013.
[quote align="center" color="#999999″]…To Everywhere[/quote]
He's in everything and everywhere. There isn't a place on the earth where you don't see at least one product that has Hiroshi's mark on it. I wonder when Hiroshi's going to design for NASA.
I salute this multi-talented designer genius!
*Harajuku, which translates as 'meadow lodging,' is actually the name for the area around Harajuku Station on the Yamanote Line of the commuter rail in a district in Shibuya, Tokyo, where the street-wear and other youth associated fashion rebel cultures originated.