Top 10 Local Restaurant Brands – When most people write about restaurant logos, much of the emphasis is placed on either national or nationally known establishments. However, there are many smaller restaurants that have brands and logo designs that rival or even surpass the big guys. Here are a few local restaurant logos that are a good example of logo designs success in this field, representing many different areas and just as many different types of food and atmosphere.

1. The Lanai Local Restaurant Logo Design
Because this word is Hawaiian, the use of a tropical flower is both beautiful and appropriate. However, this restaurant is offering modern fare, so the logo design uses a modern, muted color palette with calming organic green and a warmer deep orange. The word 'lanai' is in lower case letters in a hand-drawn cursive font, a soft and even feminine look that is balanced by blocky upper case writing used for the other words. This logo is well-balanced:
tropical
yet modern, friendly yet serious.
2. Vamonos Logo Design
This taqueria has a logo design that is invitingly Latin while also modern and fun. The large rectangle gives a sense of tradition, but the orange color is youthful and contemporary. The writing is purposely messy, adding to the bold feeling with large blocky letters. To create contrast while also tying into the Mexican food theme, bright green limes are used for the Os. This logo design is bright and attractive while clearly tying into the restaurant's brand.
3. Fruition Local Restaurant Logo Design
This smoothie shop offers a fruity but nonetheless calm and modern logo design. A slightly skewed square in a neutral gray-green shade gives a sense of stability that anchors the friendly, brightly colored spiral. The writing below is in a fluid, somewhat random font. The use of berry colors on a neutral makes the logo design pop without being overwhelming.
4. Afterglo Logo Design
The color of this South Beach restaurant and night club's logo design is perhaps the most significant aspect, a youthful orange that is ultra-modern while also perfectly representing the colors of the Miami sunset. A shining sun forms the image, with a spiral inside to imply positive change. The lettering is informal in all lower case, with thin, unassuming letters. This logo design ties perfectly into the name and the brand of this restaurant and nightclub.
5. Pacific Rim Logo Design
The image in this logo design steals the show, with two fluid shapes forming a P and an R, depending on how you look at it. The blue color clearly ties into the oceanic theme, while the yellow edging adds maximum contrast. The dark red wording in ultra-tall, modern letters adds a serious touch that balances the artsy image. A tagline below lets potential customers know what kind of food to expect here, although the name and logo design do a great job of portraying that as well.
6. Gator Krawls Logo Design
There are few creatures as unfriendly as an alligator, but this restaurant does a good job of making a gator-themed restaurant feel friendly and approachable. The alligator is seen from above and drawn in a somewhat abstract manner to reduce any possible threatening feeling.
The writing is lower case to add an inclusive and inviting touch
. As with many successful logo designs, there clearly was a lot of thought given to balance; the green and orange stand out well against each other, and the newsy font with serifs adds seriousness to the image.
7. Prime 16 Local Restaurant Logo Design
Sometimes clever drawings are a little too juvenile; at other times they seem to work well. This logo design is clearly one of the second types, with an image of a cow's head that doubles as a partially empty glass of beer. This is a good balance for a tap house and burger joint in the same establishment. Red is commonly used in burger restaurants, but this red is a little darker and more sophisticated. Bold, thick black letters add a solid feeling and weigh down the humorous image, while the writing below lets people know what to expect at this restaurant.
8. Pasta Pane Logo Design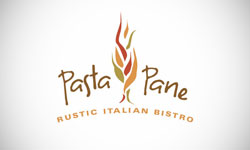 This restaurant obviously specializes in bread and pasta, both of which are usually made of wheat, so this makes a good choice for the main image. The color scheme is warm and rustic, which makes positive suggestions about the type of meal visitors can expect here. The name of the restaurant is written in hand-drawn letters that compliment the rustic theme, while the wording below is in more serious writing. The way the logo design is angled to take on a banner-like shape, which adds a suggestion of quality. Some logo designs are successful because they communicate exactly what to expect from the business at hand, and this one is a good example.
9. The Roof Logo Design
The restaurant is more subtly Asian than most, suggesting food that is both ethnic and modern. The roof is curved to appear to belong to a pagoda, which definitely bolsters the
Asian feeling
. The color red and the way the roofline appears to be written with a brush also tie into this. However, this image is balanced by serious, plain black writing with the main word emphasized in the same bold red.
10. The Black Rose Irish Pub Logo Design
The name suggests Southern charm, which is why the bar logo design is so important. The woman in the image is definitely edgy, which fluffy, bright red hair. A red, gray, and black color palette suggests that this edge is sophisticated and fashionable as well. With flowers, butterflies, and other symbols of femininity, it is easy to guess that this is a girly blog—although not the wilting violet sort of girl that you might initially guess from the name.
As you can see, small restaurants can be just as strong in branding and logo design as their national competitors. Part of this is due to the nature of a local business; owners can have a logo design that appeals to a narrower market. However, small businesses are in general freer to play with their brand and experiment. If you want a logo design for your business that is evocative and relevant, talk to a logo designer today.