Enough on Your Plate? The Top Ten Casual Dining Logos
Perhaps no country has as many casual dining restaurants as the United States, nor as many different cuisines to choose from. Americans love an impromptu meal, and these chains offer one that is inexpensive, fast, and usually delicious. Here are ten casual dining chain restaurant logos that are powerful and attractive enough to entice droves of diners.
1. Pei Wei Asian Diner Logo Design
This Asian Restaurant logo is eye catching in black and red, but this is not all it has going for it. First, the logo shows exactly what cuisine is being offered. Even if the viewer did not bother to read the writing, the vermilion red combined with the vaguely Asian appearance of the central icon cannot be missed. In addition to these elements, there is a circle as the predominant shape, which makes it seem friendly and casual. The red figure looks like some sort of Asian character, but it is actually a human figure that appears to be running, suggesting that this is a place to get food fast.
2. Olive Garden Logo Design
Olive Garden claims to bring the best of traditional Italian food to the casual dining market. With restaurants in just about every city, borough, and suburb in the nation, it's easy to say that this logo has been successful in communicating this aim. The Italian Restaurant logo appears to be carved into terra cotta, a common material associated with Italy. The grape design is reminiscent of the grape arbors that many Americans connect with the southern European country as well. The lettering is scrolling and appears to have been hand-written in a soothing green. Overall, this mass-produced, vaguely artisan sign is directly representative of the restaurants that bear it.
3. Baja Fresh Logo Design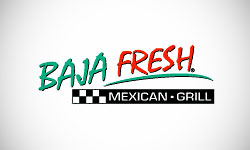 This restaurant brings a diner sensibility to Mexican food, and the Mexican Restaurant logo explains this in a language more effective than words could ever be. The black and white checks incorporate a common diner image with a common image associated with diners. The red and green of the writing are the colors of the Mexican flag, and the writing is slanted and messy so that it appears to have been written in a hurry. The words "Mexican Grill" are written below in case the viewer forgets what type of food is served here.
4. Noodles & Company Logo Design
This pasta shop offers a variety of soups, salads, and of course pasta dishes from a variety of nationalities ranging from Italian to Thai. The focus is on offering good food at a low price, with a rich range of choices. The Thai Restaurant logo shows this intent perfectly. The main color is orange, which is not just a good color for standing out in a crowd, but also one that is not associated with any particular national cuisine. The logo is round to show its inclusion of many different types of food, while the central image is, of course, a steaming bowl of noodles.
5. Chipotle Mexican Grill Logo Design
This casual dining restaurant has a very different logo from its competitors, but it is nonetheless attractive and eye-catching. The logo consists of two friendly circles, one within the other. The red and black attract attention, while the chipotle pepper in the center ties into the establishment's name. Wavy lines inside the pepper both add an artistic edge and make use of a shape that usually makes people think of progressiveness and forward movement.
6. Fuddrucker's Logo Design
This American Restaurant logo is very different from most others in this category, but in this case that is an effective strategy. The serrated circle combined with the ribbon-like image splayed across this logo give the impression of a blue ribbon, an image that is bolstered by the words 'the world's greatest hamburgers'. The edgy font combined with red and yellow accent colors are attention-getting and make this seem like a fun place to have a quick meal. The diagonal direction of the ribbon gives it a feeling of movement that adds to the fast-paced image.
7. Quizno's Logo Design
This sandwich shop serves a warm toasty sandwich that is a far cry from the cold, deli-style fare offered by its competition. The central image is of a large capital 'Q', drawn to emphasize the circular shape, in a red and green palette that is common in the casual dining world and perhaps hinting at red and green peppers. The name is below, followed by the tagline. The writing is square and bold, adding to the perceived strength of the company. This sandwich shop logo is successful because it distinguishes the restaurant from other sandwich shops and makes it seem like a more substantial meal.
8. Taco Del Mar Logo Design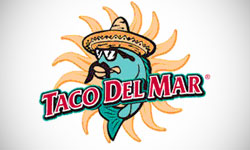 In Spanish, the restaurant name means 'taco of the sea', which is appropriate for a restaurant that is best known for its fish tacos. The fish takes center stage in this image, but it wears a sombrero, sunglasses, and a thick mustache to give it more of a Hispanic feeling. A bold sun in the background reinforces the Latin theme. This Spanish Restaurant logo clearly states the house specialty while remaining memorable and fun, making it a clear winner.
9. P.F. Chang's Logo Design
What better color is there for a Chinese-themed restaurant than vermillion? However, the references to classical Asia don't stop there. A small bonsai tree is on either side of the wording, giving a cultivated image, while the writing is in a modern, angular font. The words 'China Bistro' are printed below to reinforce the image. In all, this Chinese Restaurant logo is simple and communicative, and a huge part of this growing brand.
10. Hard Rock Café Logo Design
This chain has successfully kept the same logo since its inception in 1971, which makes it a notable logo in itself. However, it has other things going for it as well. The red and yellow are classic colors used in hamburger restaurants, but this logo uses more muted versions of these classics. The circle is an inclusive shape, while the writing is simple yet timeless. This logo has the highest recognition factor of almost any restaurant logo in the United States due to its simple attractiveness and memorability.