Top 10 Auto Store Logos
A lot has been written about the logo designs of different car companies, but what of the many stores that offer products and accessories for these expensive machines? As you will see in the following ten examples, these auto stores must have a brand and a logo design that is just as professional and attractive, drawing in customers that want to maximize their car's performance and appearance.

1. Advance Auto Parts Logo Design
The Advance Auto Parts logo design includes a checkered flag, a symbol widely associated with the speed and high technology of racing. The black and white colors tie into this positive image, while the red is attention getting as well as a color that inspires movement. The bold, slightly slanted lettering gives a feeling of strength and movement that is highly relevant to this industry, while the tagline communicates a key value of this store and the people who shop there.
2. VIP Parts, Tires and Service Logo Design
We see variations of the same themes in this logo design as in that of Advance Auto Parts. The checkered flag is used again, this time in a more wavy shape that bolsters the feeling of movement. The writing is bolder, with serifs. While the writing itself is not slanted, the serifs are angled slightly to achieve the same affect. The red is another element in common, although in this case it is a little darker for a more modern feeling. Instead of a tagline, the wording below communicates exactly what products are offered at this business.
3. NAPA Auto Parts Logo Design
Rather than a classic red, black, and white color scheme, this logo design uses a soothing blue and a golden yellow, which give the impression that this company is in the business of solving problems. The hexagonal shape is reminiscent of a bolt head, which is appropriate to the auto industry. The white color around the lettering adds contrast, while the rounded yet thick letters communicate that this business is strong but approachable.
4. AutoZone Logo Design
This logo design is all about movement. The rectangular shape to the left has movement lines through it to give the impression of acceleration, which is underscored by the slanted lettering. The letters are thick and round, without serifs or other details that would detract from the image. The red and orange color palette is dynamic and sure to draw in the eye. The AutoZone logo is a good example of how the simplest shapes can be combined to create enormous impact.
5. CarQuest Logo Design
This logo design features a shield shape, which communicates strength and tradition, but it is drawn slightly asymmetrically to create visual interest and balance. The red of the logo draws in the eye, while the blue that is given equal space promises a calm experience. The writing is bold and rounded to give a strong yet friendly feeling, a theme that is commonly seen in this industry.
6. Trick Flow Logo Design
Tubular writing in this auto logos relates to the 'flow' referred to in the name. However, the complex loops add interest and make this anything but a straightforward image while giving the logo a little retro charm reminiscent of old neon signs. The rounded shapes again give a user friendly feeling. The tagline below promises 'serious horsepower' to anyone who buys from this store. The red ties into the industry while inviting attention from people who pass by the locations. There is no image or picture, but in this case none is needed.
7. Les Schwab Logo Design
This West Coast tire and auto parts store has an ultra-traditional logo that incorporates many elements common to this industry while still creating a unique and relevant whole. The rectangles and squares seen in this logo design give a feeling of straightforwardness and honesty, while the red and yellow are a common color scheme in this industry. Blue and black accents add visual interest. The entire logo is angled to give that all important feeling of movement.
8. Western Auto Supply Logo Design
Again we see the checkered flag image that is common in this theme, although in this case the image is a little more abstract and includes not just black and white, but an eye catching red as well. The orientation suggests movement, but the solid writing gives an all important feeling of stability that is key in this field. This logo design is very simple, but still offers a brand promise and important clues about the business itself.
9. Summit Racing Equipment Logo Design
While rounded shapes are common in this field of business, Summit Racing Equipment is all hard angles. The S is drawn to look like a lightning bold, which communicates speed and swiftness. The red and blue color palette is by now a familiar theme, but in this case is patriotic shades of red, white, and blue that are used to give an all American feeling. The writing again is angled to make the company feel like a constantly moving organization, while triangular accents in the font tie into the name while lending a feeling of strength.
10. O'Reilly Auto Parts Logo Design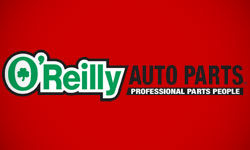 This logo is an important part of this brand, with Kelly green color and a shamrock image adding to the Irish company name. Other than that, this logo is consistent with others in this industry, both in the red color and the use of bold yet rounded lettering. The tagline promises a company filled with 'professional parts people', which will be inviting to the growing number of people who are baffled by the inner workings of their cars.
Just as in other industries, auto stores often follow a few basic rules, but there is plenty of room for individual expression and branding. The next time you go to an auto parts store, pay attention to the way elements of the logo design are used throughout the store in packaging and location design. While few people think about the branding in this industry, the companies listed here are clearly paying close attention to the topic.