Restaurant Logo Design
Cafe Logo Design
Award Winning Design Team
Over 20 Years Experience
Creating Restaurant Logos
Featured Case Study
A Premium Cosmopolitan Fast Food Restaurant Brand, Serving International Fusion Food Recipes in Singapore, Malaysia, and Hong Kong.
We created a stunning brand identity along with secondary marks, custom icons, and visual elements. We also created a beautiful website.
Client: Cellar 335 (Visit Website)
Type Of Project: Logo Design
Client Location: 335 Newark Avenue, Jersey City, NJ
Design Analysis: Partners Robert Palmer and Chef Jamie Knott bring cool and contemporary dining to Jersey City at Cellar 335 where Chef Knott (Saddle River Inn, previously BLT Restaurants) and chef de cuisine Jared Bane will serve Progressive American cuisine with Asian accents, and tiki-style cocktails, being artfully crafted by Joshua Fossitt and Guillermo Bravo (Weather Up, The Nomad, Featherweight.)
The dramatic room, designed by the hip boutique interior design firm D&G, features a living wall of plant life, and custom graffiti murals by local artist MustArt. The restaurant is managed by Peter Arnone, former GM of Ralph Lauren's restaurant The Polo Bar.
The SpellBrand team created a stunning logo design drawing from the fact that the restaurant is located basement of what used to be a church, but is now a concert venue that holds 850 people. The client is using reclaimed pieces from the church as well as local artists to do graffiti and the interior. You can see references to crosses and crests in a subtle way.
Client: Grille Brazil
Services: Logo Design
Brand Story: A Brazilian grill restaurant wanted a stunning, rustic and very western looking logo and approached SpellBrand to create the perfect brand for them.
Brand Solution: We came up with a unique grill based logo icon that incorporates a stylized bull head with grilling tools and the classic western font.
Restaurant Logo Design
How do you choose a restaurant? There are thousands in London alone and even more throughout the UK, but somehow people manage to choose a restaurant on a regular basis. While some choices are based on personal experience, many people will try a new one based on a hunch alone. This is where the power of creative logo designs can have such a tremendous effect on your establishment's success. Here are a few things that your cafe's logo design should communicate.
Type of Branding. On the most elemental level, what kind of experience will people have when they walk in your doors? Will they stand in line to order food and then receive it in a paper bag? Will they sit at tables with linen tablecloths and eat off name brand china? People should be able to look at the identity and guess with reasonable accuracy what type of cuisine they will encounter. Because people are afraid of the unknown, the more your logo can tell them, the more likely they are to give you a try. You should also check out the top 10 local restaurant brands that we rated.
Type of food. Are you offering classic Italian, nouvelle cuisine, or fish and chips? Brand identities should give prospective customers an idea of what type of foods they will find on your menu. If the type of food isn't immediately obvious from the business name alone, you can add a tagline or choose to use design elements to suggest this. If you are offering ethnic foods, consider using the home country's flag as inspiration for your color palette. You can also include images resembling your key dishes in the logo itself. How you communicate in your designs is as important as what you communicate.
Price range. This is a more subtle characteristic to communicate in branding, but it is still possible. Generally, restaurant goers expect fun, colorful, or humorous logos to represent less expensive ones, while more classic images connote a higher price tag. Colour choice and shapes also give subconscious cues as to a restaurant's prices, although this is a more delicate way of showing this. An experienced logo designer will know how to use the language of design to spread the word about your company through restaurant logo designs.
Level of service. Brand marks also tell your customers whether they will be waited on hand and foot, expected to help themselves, or almost anything in between. Again, subtleties of design are used to communicate what kind of service people can expect when they walk in your doors. Check out this article on the top restaurant identities.
Logos are not just a pretty picture to hand in front of your locations; they are a visual representation of what makes your establishment unique. Having an attractive, intriguing, and professional design can attract droves of adoring patrons, while an amateur job chases people away from your doorstep. Let an experienced, professional logo designer create a logo that is the centre of your brand, a logo that you can display with pride.
---
Logo Client: Peckers Fast Food
Logo Design Used In: Columbus, OH 43221
Logo Design Project Summary: Peckers is a new fast food delivery company that came to SpellBrand looking for a shiny new brand identity. Peckers delivers the best and biggest wings, burgers, sandwiches, salads, appetizers, and sides.
The client wanted a chickadee character logo design that would look great on a sign, on the side of delivery vans and on staff uniforms. The SpellBrand team came up with a great looking chickadee cartoon character and coupled with a bold font and bright logo colors, the final design was stunning.
Creating a common animal character for a logo design is tricky business. The designer has to ensure the character design is unique and still be recognizable. This chickadee character was hand drawn in pencil first. Then the pencil sketch was inked and digitized in Adobe Illustrator. The font selection also proved to be quite challenging and time consuming.
Reference photos of chickadees were used to draw the initial character sketch. We used the same process as we would when creating a mascot character design. Of course this particular character was not as complex.
Top 10 Local Restaurant Brands
When most people write about restaurant logos, much of the emphasis is placed on either national or nationally known establishments. However, there are many smaller restaurants that have brands and logo designs that rival or even surpass the big guys. Here are a few local restaurant logos that are a good example of logo designs success in this field, representing many different areas and just as many different types of food and atmosphere.
1. The Lanai Local Restaurant Logo Design
Because this word is Hawaiian, the use of a tropical flower is both beautiful and appropriate. However, this restaurant is offering modern fare, so the logo design uses a modern, muted color palette with calming organic green and a warmer deep orange. The word 'lanai' is in lower case letters in a hand-drawn cursive font, a soft and even feminine look that is balanced by blocky upper case writing used for the other words. This logo is well-balanced:
tropical
yet modern, friendly yet serious.
2. Vamonos Logo Design
This taqueria has a logo design that is invitingly Latin while also modern and fun. The large rectangle gives a sense of tradition, but the orange color is youthful and contemporary. The writing is purposely messy, adding to the bold feeling with large blocky letters. To create contrast while also tying into the Mexican food theme, bright green limes are used for the Os. This logo design is bright and attractive while clearly tying into the restaurant's brand.
3. Fruition Local Restaurant Logo Design
This smoothie shop offers a fruity but nonetheless calm and modern logo design. A slightly skewed square in a neutral gray-green shade gives a sense of stability that anchors the friendly, brightly colored spiral. The writing below is in a fluid, somewhat random font. The use of berry colors on a neutral makes the logo design pop without being overwhelming.
4. Afterglo Logo Design
The color of this South Beach restaurant and night club's logo design is perhaps the most significant aspect, a youthful orange that is ultra-modern while also perfectly representing the colors of the Miami sunset. A shining sun forms the image, with a spiral inside to imply positive change. The lettering is informal in all lower case, with thin, unassuming letters. This logo design ties perfectly into the name and the brand of this restaurant and nightclub.
5. Pacific Rim Logo Design
The image in this logo design steals the show, with two fluid shapes forming a P and an R, depending on how you look at it. The blue color clearly ties into the oceanic theme, while the yellow edging adds maximum contrast. The dark red wording in ultra-tall, modern letters adds a serious touch that balances the artsy image. A tagline below lets potential customers know what kind of food to expect here, although the name and logo design do a great job of portraying that as well.
6. Gator Krawls Logo Design
There are few creatures as unfriendly as an alligator, but this restaurant does a good job of making a gator-themed restaurant feel friendly and approachable. The alligator is seen from above and drawn in a somewhat abstract manner to reduce any possible threatening feeling.
The writing is lower case to add an inclusive and inviting touch
. As with many successful logo designs, there clearly was a lot of thought given to balance; the green and orange stand out well against each other, and the newsy font with serifs adds seriousness to the image.
7. Prime 16 Local Restaurant Logo Design
Sometimes clever drawings are a little too juvenile; at other times they seem to work well. This logo design is clearly one of the second types, with an image of a cow's head that doubles as a partially empty glass of beer. This is a good balance for a tap house and burger joint in the same establishment. Red is commonly used in burger restaurants, but this red is a little darker and more sophisticated. Bold, thick black letters add a solid feeling and weigh down the humorous image, while the writing below lets people know what to expect at this restaurant.
8. Pasta Pane Logo Design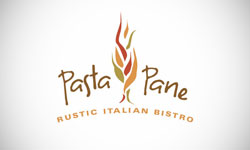 This restaurant obviously specializes in bread and pasta, both of which are usually made of wheat, so this makes a good choice for the main image. The color scheme is warm and rustic, which makes positive suggestions about the type of meal visitors can expect here. The name of the restaurant is written in hand-drawn letters that compliment the rustic theme, while the wording below is in more serious writing. The way the logo design is angled to take on a banner-like shape, which adds a suggestion of quality. Some logo designs are successful because they communicate exactly what to expect from the business at hand, and this one is a good example.
9. The Roof Logo Design
The restaurant is more subtly Asian than most, suggesting food that is both ethnic and modern. The roof is curved to appear to belong to a pagoda, which definitely bolsters the
Asian feeling
. The color red and the way the roofline appears to be written with a brush also tie into this. However, this image is balanced by serious, plain black writing with the main word emphasized in the same bold red.
10. The Black Rose Irish Pub Logo Design
The name suggests Southern charm, which is why the bar logo design is so important. The woman in the image is definitely edgy, which fluffy, bright red hair. A red, gray, and black color palette suggests that this edge is sophisticated and fashionable as well. With flowers, butterflies, and other symbols of femininity, it is easy to guess that this is a girly blog—although not the wilting violet sort of girl that you might initially guess from the name.
As you can see, small restaurants can be just as strong in
branding and logo design
as their national competitors. Part of this is due to the nature of a local business; owners can have a logo design that appeals to a narrower market. However, small businesses are in general freer to play with their brand and experiment. If you want a logo design for your business that is evocative and relevant, talk to a logo designer today.
Enough on Your Plate? The Top Ten Casual Dining Logos
Perhaps no country has as many casual dining restaurants as the United States, nor as many different cuisines to choose from. Americans love an impromptu meal, and these chains offer one that is inexpensive, fast, and usually delicious. Here are ten casual dining chain restaurant logos that are powerful and attractive enough to entice droves of diners.
1. Pei Wei Asian Diner Logo Design
This Asian Restaurant logo is eye catching in black and red, but this is not all it has going for it. First, the logo shows exactly what cuisine is being offered. Even if the viewer did not bother to read the writing, the vermilion red combined with the vaguely Asian appearance of the central icon cannot be missed. In addition to these elements, there is a circle as the predominant shape, which makes it seem friendly and casual. The red figure looks like some sort of Asian character, but it is actually a human figure that appears to be running, suggesting that this is a place to get food fast.
2. Olive Garden Logo Design
Olive Garden claims to bring the best of traditional Italian food to the casual dining market. With restaurants in just about every city, borough, and suburb in the nation, it's easy to say that this logo has been successful in communicating this aim. The Italian Restaurant logo appears to be carved into terra cotta, a common material associated with Italy. The grape design is reminiscent of the grape arbors that many Americans connect with the southern European country as well. The lettering is scrolling and appears to have been hand-written in a soothing green. Overall, this mass-produced, vaguely artisan sign is directly representative of the restaurants that bear it.
3. Baja Fresh Logo Design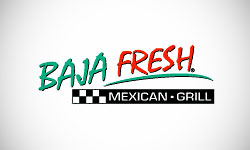 This restaurant brings a diner sensibility to Mexican food, and the Mexican Restaurant logo explains this in a language more effective than words could ever be. The black and white checks incorporate a common diner image with a common image associated with diners. The red and green of the writing are the colors of the Mexican flag, and the writing is slanted and messy so that it appears to have been written in a hurry. The words "Mexican Grill" are written below in case the viewer forgets what type of food is served here.
4. Noodles & Company Logo Design
This pasta shop offers a variety of soups, salads, and of course pasta dishes from a variety of nationalities ranging from Italian to Thai. The focus is on offering good food at a low price, with a rich range of choices. The Thai Restaurant logo shows this intent perfectly. The main color is orange, which is not just a good color for standing out in a crowd, but also one that is not associated with any particular national cuisine. The logo is round to show its inclusion of many different types of food, while the central image is, of course, a steaming bowl of noodles.
5. Chipotle Mexican Grill Logo Design
This casual dining restaurant has a very different logo from its competitors, but it is nonetheless attractive and eye-catching. The logo consists of two friendly circles, one within the other. The red and black attract attention, while the chipotle pepper in the center ties into the establishment's name. Wavy lines inside the pepper both add an artistic edge and make use of a shape that usually makes people think of progressiveness and forward movement.
6. Fuddrucker's Logo Design
This American Restaurant logo is very different from most others in this category, but in this case that is an effective strategy. The serrated circle combined with the ribbon-like image splayed across this logo give the impression of a blue ribbon, an image that is bolstered by the words 'the world's greatest hamburgers'. The edgy font combined with red and yellow accent colors are attention-getting and make this seem like a fun place to have a quick meal. The diagonal direction of the ribbon gives it a feeling of movement that adds to the fast-paced image.
7. Quizno's Logo Design
This sandwich shop serves a warm toasty sandwich that is a far cry from the cold, deli-style fare offered by its competition. The central image is of a large capital 'Q', drawn to emphasize the circular shape, in a red and green palette that is common in the casual dining world and perhaps hinting at red and green peppers. The name is below, followed by the tagline. The writing is square and bold, adding to the perceived strength of the company. This sandwich shop logo is successful because it distinguishes the restaurant from other sandwich shops and makes it seem like a more substantial meal.
8. Taco Del Mar Logo Design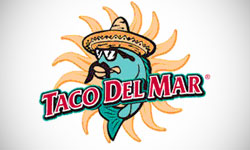 In Spanish, the restaurant name means 'taco of the sea', which is appropriate for a restaurant that is best known for its fish tacos. The fish takes center stage in this image, but it wears a sombrero, sunglasses, and a thick mustache to give it more of a Hispanic feeling. A bold sun in the background reinforces the Latin theme. This Spanish Restaurant logo clearly states the house specialty while remaining memorable and fun, making it a clear winner.
9. P.F. Chang's Logo Design
What better color is there for a Chinese-themed restaurant than vermillion? However, the references to classical Asia don't stop there. A small bonsai tree is on either side of the wording, giving a cultivated image, while the writing is in a modern, angular font. The words 'China Bistro' are printed below to reinforce the image. In all, this Chinese Restaurant logo is simple and communicative, and a huge part of this growing brand.
10. Hard Rock Café Logo Design
This chain has successfully kept the same logo since its inception in 1971, which makes it a notable logo in itself. However, it has other things going for it as well. The red and yellow are classic colors used in hamburger restaurants, but this logo uses more muted versions of these classics. The circle is an inclusive shape, while the writing is simple yet timeless. This logo has the highest recognition factor of almost any restaurant logo in the United States due to its simple attractiveness and memorability.