Nolan Creek Winery Branding
Nolan Creek Winery Branding
Nolan Creek is a small winery and wine lounge, located in Nolan Creek, Belton County in Texas (near Fort Hood). Although Belton is a small town, being to near Fort Hood (the biggest Military Base in the world) means that this winery had the advantage of getting noticed. It was the dream of husband-and-wife owners Phil Monge and Vira L. Chudasma, to open their own urban winery and wine lounge.Vira wanted to incorporate wine, and creek into the beverage logo design, since she was trying to capture market segment as a female wine maker. She also wanted to see something that incorporate some thing to do with India, since that is where Vira was from.
CLIENT
What we did
Logo Design, Brand Identity, Package Design
Brand Solution: After researching the local Belton and Fort Hood area, the terrain, the architecture and the country side, the Spellbrand team came up with several ideas showcasing the creek and country elements in a rustic and at the same time urban look and feel. The final logo design features a scroll like logo that incorporates a wine bottle encasing the Nolan Creek, some trees, a scroll and some ornaments to create a stunning, rustic and historic looking wine logo design.You can see the effect of this logo design on the wine bottle labels and branding. This was such a fun project, being a wine lover myself.
Ten Winery Logos That Make You Want to Drink Up
Wine logos are very important to the success of a company, and wineries are no exception. Many wine lovers will try a new wine spontaneously based on the appearance of the bottle alone. Not only is a winery's logo on the wine bottles, it will also be displayed prominently in advertisements, promotions, and the winery itself. A winery's food and drink logo become synonymous with the brand, and therefore it must be relevant, attractive, and tailored to the special values of the industry. The following list includes ten winery logos that are perfect for the products that they represent.

1. Vie Winery Logo
This winery has chosen to incorporate the meaning of their name along with a few basic design tricks commonly used in professional logos into their name. 'Vie' is French for 'life' and, appropriately, a tree of life is the most prominent part of the logo. The branches are interwoven to create a Celtic design, which is very trendy right now. Last, the logo is in the shape of a circle, which makes people feel included in a company. Altogether, this company looks like a popular place that is nonetheless inclusive and tradition-based, which is an appropriate image for a winery.
2. Clif Bar Family Winery Logo
Clif Bar is a company normally known for healthy energy bars, but their expansion into the wine business brought a new dimension to the family business along with a need for a whole new logo. This logo shows a man rock climbing, which is very appropriate for this nature oriented business. Not only is Clif Bar known for catering to an outdoorsy lifestyle, two of their bestselling wines are The Climber Red and The Climber White. This is a good example of successfully and seamlessly incorporating company values into professional logos.
3. Montana Wines Logo
Despite its name, this winery is located far from the Pacific Northwest in New Zealand. However, this winery has chosen to use their logo to communicate a sense of old world tradition and charm, which are both valued in this industry. The logo features a European style crest surrounded by two unicorns, a fantasy image. The crest features both ocean waves and mountains, appropriate for the island nation that this winery calls home. The motto is Latin for 'In wine, happiness and caring'. This logo is a clear winner among professional logos because it communicates so much in such a small space.
4. Levendi Winery Logo
This winery's logo has earned a place among the most artistic and clever professional logos. The design is simply a black ink drawing of a man standing among grape vines on a sunny day. However, the inclusive circle shape is including many times in the logo, from the grapes to the spiral sun. Waves, a symbol of movement and fluidity, make up the man and the plants themselves.
5. Columbia Winery Logo
This Washington state winery manages to incorporate both old world tradition and a little of the Pacific Northwest into their logo. The logo features the spire of a mission-style building, a throw-back to the California missions where wine became a west coast crop for the first time. However, on top of the weather vane is a moose, a classic symbol of the Northwest. This deserves a spot among the best professional logos for tying their location into their crop's history.
6. Fish Eye Wines Logo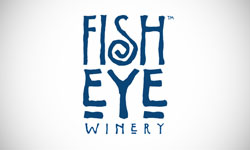 This winery prides itself on being different from the others, with quality wines at a much more affordable price. It deserves a place among the best professional logos because the logo expresses its difference from the others while incorporating several aspects of the name into the logo itself. First, the color is blue, a color traditionally associated with marine life. Second, the 's' spirals at the bottom into a round shape reminiscent of a fish eye. The 'y' is designed to look like a fish tail. No one can look at this logo and not see the piscine references throughout.
7. Ghost Rock Vineyard Logo
This Australian winery is located at a place named Ghost Rock, a strong place name that has been used both for the winery name and the professional logos. This logo features a black and white design with a lone rock next to a windblown, leaf-less tree. It is just ghostly enough to communicate the name without being too creepy for a mainstream audience.
8. Fat Cat Wines Logo
This logo deserves a place among successful professional logos for having a logo that makes people want to buy the wine. The colors are bold and the graphics simple. The name, which denotes a successful person in many English-speaking countries, is playing the piano, adding a touch of class while tapping into the jazz era usage of the word 'cat'. Just because of its name and its logo, many people will buy this wine as a gift or a novelty item.
9. Maysara Winery Logo
Many professional logos use an initial, but few manage to incorporate their business's purpose into it. Maysara's logo is a clear winner because its swirling letters are elegant and seamlessly incorporate a bunch of grapes into the letter.
10. Omaka Springs Estates Logo
This winery uses trees in their logo, a common theme in the professional logos of agricultural products. However, Omaka Springs Estates creates symmetry and emphasize the uniqueness of their company by reflecting the tree graphics on the bottom half of the logo. These shadows make the logo fit into a neat, business-like square but also create the illusion of light.
Whether you enjoy the fruits of the vine or prefer to go without, it's easy to see how these winery logos are helping their businesses find success in a tough market. A good logo is not just visually attractive; it communicates basic facts about your business. Having great products, excellent customer service, and a professional logo designed by a graphic designer to be appropriate both for your company and your industry can do the same for you.