Entertainment Logo Design
Media Logo Design
Award Winning Design Team
Over 20 Years Experience
Creating Entertainment Company Logos
Logos for Entertainment Companies
What business could be more image-oriented than entertainment? Visual attractiveness is never as important as it is here. A company trying to find success in this industry must always present a professional and, of course, entertaining image.
Part of this image is having a professional logo design.
What makes these logos successful? This varies from business to business, but for entertainment brands, having an attractive mix of colors and shapes is key. While colors can be easy and even fun to pick out, many people are confused by how shape affects their clients.
Circular logos communicate a sense of friendliness and inclusiveness. A good example using this shape can be seen in our portfolio. Many television logos, from CBS to the Food Network use this shape of logo for this reason. If you look at a circle, there are no corners or hard edges. Circles are the same shape as a planet and even a hug. If you want your business to have this feeling, you may want to consider having this shape used in your logo.
Square logos are the opposite of circles when it comes to their shape and the emotions they convey. This hard-edged shape gives a traditional and straightforward image. Viacom and DirectTV both use squares because they want to appear more established, as the leaders of their industry. This may make customers feel like they are safe giving that business their time and money. A square is also symmetrical and balanced, which leads to visually attractive logos as well.
If you want to give a feeling of strength, the triangle may be the shape you are looking for. The triangle is not only the strongest shape in geometry, but also the shape associated with mountains, pyramids, and other strong objects. Your logo design can communicate the same feeling if you choose this shape.
Color is a separate issue, but it is just as important as shape. Many psychologists have studied the effect of color on the human psyche and found conclusively that people have subconscious reactions to different colors, reactions that affect their emotions and decisions. Color selection has a huge effect on how identities are perceived.
---
Media Company Logos For Multimedia Firms
If you work in this business sector or are otherwise involved in media, much of your success will depend on the power of your brand. Whether you are selling your services to customers or to other companies, perception is everything in this industry. The first step to getting a brand that represents you well is to choose the perfect media logo. Here are a few ideas for designing logo designs that will be successful in these fields.
Be Simple and Bold. If you look at the logos for some of the most influential companies in the industry, you will find that many have the company's name in a bold, legible font in black, capital letters with little or no frills. First, it is very easy to see and recognize the name of the company. Name recognition is one of the most important parts of building credibility, so this gives these companies a huge advantage. Second, this approach has certain style implications. People tend to see a company with a simple, bold logo as big, established, and solid. If this is the impression that you want your branding to portray, a logo featuring your name in large black letters may be a good fit.
Shape Your Image. A logo featuring a mountain doesn't make much sense when you think about it, but mountains are a common theme in these industries as most of the logos. Why? Because a mountain is a triangular shape. Triangles are the strongest shape in geometry, so they communicate a sense of strength and permanence. Including one in your logo will make your company seem like a safe, established choice, which is imperative if you want to get work from other businesses. Another shape that is well represented is the circle. Circles are popular shapes because they communicate completion and inclusion. Most customers who are buying a product want a complete experience in which they feel included. A circular symbol will make your company well-rounded, both literally and figuratively.
Color Your Public Perception. Color choice will not just make your logos and such elegant logos are aesthetically more pleasing. Color is a powerful language that speaks directly to the subconscious minds of your audience. If you want to communicate that you offer a relaxing experience, deep blues and greens are a good choice. If you want to seem more exciting and cutting edge, reds and yellows are guaranteed to get attention. As mentioned before, black and white can be a powerful choice, though also a boring one if your logo is not boldly designed. Exactly what you want to say with your color choice should be discussed with your graphic artist so you can get the results you want.
As you can see, your logo will not just be a figure on your signs and letterhead. It is a graphic depiction of what your company is all about. Having a great logo can set your company apart from the competition and increase your chances of making it big in a cutthroat industry.
Tickets to Success: Top Ten Entertainment Business Logos
The entertainment industry is a field where customers usually buy the product before having even seen it. They must trust the company enough to assume that the product will be worth their upfront investment. Because this requires trust and confidence, a business logo for this field must be particularly inspiring. These ten entertainment industry logos are strong enough to provide a strong brand for the company and convince customers that their products are worth the money.


1. Dreamworks Logo
The movie company Dreamworks has a name that suggests sleeplike catharsis and escape from reality, which is something that many people want from a movie. Their logo is just as dreamy. It features not a man in the moon, but a small boy in the moon with a fishing pool. The deep blue hues along with the clouds accented by moonlight give the logo a sleepy feeling. The name and the logo both suggest that the movie films from this company will be a relaxing and escapist experience.
2. Twentieth Century Fox Logo
Twentieth Century Fox portrays both strength and the style of Old Hollywood with their business logo. The letters of the company appear to be carved out of stone. They are a rich, reflective gold, associated with luxury and wealth. Large lights, which are traditionally associated with theater, surround the name. In the background, it is dusk, the time when many people head to the theaters to catch a movie. These entertainment logo symbols combined into one cohesive logo make this logo a success.
3. RKO Pictures Logo
This logo has perhaps changed the least of any entertainment business logo. It simply features a radio tower, a throwback to the company's past as a radio industry giant, on top of a globe. This suggests that this company dominates the world in its industry, which is not far from the truth. The name is written in modern letters in the color red, which is an attention-getting color.
4. Metro Goldwyn Mayer Logo
Metro Goldwyn Mayer is one of the original film companies, and it not so coincidentally has one of the most recognizable logos in the film industry. The business logo features a cameo-like picture of a lion, which was the mascot of the founder's college. However, lions also can suggest strength, leadership, and loyalty, which is a positive first impression for any company to portray. Few people know that the words surrounding the lion, "Ars Gratis Artis" are Latin for "Art for Art's Sake". This logo is a clear winner because it is unique, tied into company culture, and has high recognition among movie goers.
5. Universal
Universal Pictures is one of the oldest entertainment industry companies, and they have a logo that ties into their name and their industry. The business logo of this company features a globe, representing the 'Universal' nature they are trying to portray. The globe is backlit as if from a large light such as those used in the film industry, tying into the company's trade. The logo has dark colors in the background with bright colors in the foreground, creating a sense of brilliance and balance.
6. Paramount
The Paramount business logo features a mountain rising out of the clouds. While mountains and triangles both imply strength, the clouds surrounding this mountain imply lofty height. The blues and purples of the logo imply an evening's calm. The ring of stars originally had 24 stars, one for each of the studio's original contracted workers. However, the ring was redesigned with 22 stars simply because it was more aesthetically pleasing. In any case, the star is a symbol commonly associated with Hollywood, and thus very appropriate.
7. Sony Pictures
Sony Pictures is an entertainment industry giant with a business logo that is recognizable around the world. The logo features a rectangle, which is reminiscent of the screen most movies are viewed upon. It is divided by lines that become thinner toward the right side of the shape, adding visual interest. There appears to be a spotlight focused on the rectangle, which is a popular symbol of the music industry. Because this logo is both memorable and relevant to its industry, it is very appropriate for a company of this stature.
8. New Line Cinema
The New Lines Cinema Company aims to be just a little different from the others, and this value is portrayed by both their name and their logo. The business logo features a portion of film, which is a common entertainment industry symbol. However, one edge of the film lies diagonally across the film instead of on the side where it usually is. The message? That this film company is just a little different and edgier from the others.
9. Castle Rock Entertainment
Castle Rock is a medium-sized film company that is neither an industry giant nor a small independent company. However, this company is respected both among filmgoers and within its industry. While part of this is due to the high quality of the movies that are made here, at least part is because of the business logo. This logo features a lighthouse, which traditionally suggests both safety and 'lighting the way'. The lighthouse is backlit by the moon, which looks strikingly like a movie light, a common entertainment industry symbol. The impression is that you are safe choosing a film from this company, and that they are a reliable source of entertainment.
10. Lions Gate Entertainment
Lions Gate is one of the largest independent film companies, and its business logo expresses this by being unique while using common entertainment techniques. The logo features simply the company name, avoiding the entertainment industry tradition of choosing a central icon. However, the company name is bathed in light, as if from the lights typical of a movie logo. It also is surrounded by clouds, another common theme in the entertainment industry. The message is that this is a movie company, but that it is just a little different from the rest of the pack.
The movie industry has its own rules and its own symbols, and the business logos of the most successful film houses show this in a visual, easily understandable form. Whether it is a traditional logo bringing up images of Old Hollywood, or a new age logo using the best of modern symbolism, each of these logos perfectly describes the company that sponsors it.
A collection of the top 10 media companies and their media logo designs. These media companies are the giants of the media and entertainment world. They shape what we see and how we see things. They have created history and enhanced our lifestyles significantly by making media accessible.
This week we take a look at the top 10 media logos. We do not review the logos but merely list them as a showcase. If you would like to pitch in with your own recommendations, please do leave a comment in a similar format as you see below. You can even use the "img src=" code to show the logo. The logo has to be 250px wide and 150px high.
Top 10 Media Company Logos
1. Time Warner
Media Giant, Time Warner is the largest media conglomerate and was founded by Warner brothers. It was formerly three merging 3 companies in 1990: Warner Communications, Inc, Time Inc. and America Online, Inc. The Time Warner logo is a plain text base logo using a serif base font. The color of the logo changes depending on the situation and media.
2. News Corporation
News Corporation, owned by Rupert Murdoch, made up of Fox Television Network, Fox News, the FX Channel, 20th Century Fox Films, Fox 2000, and publisher Harper Collins, is one of the largest mega media corporations in the USA, with revenue of approximately $32.9 billion. Originally started in South Australia, News Corporation was re-incorporated in Delaware in 2004 and has been overtaken by his son, James. The News Corporation logo is a simple iconic logo made up of a globe made out of meshed vertical and horizontal lines and the company name beside it. Quite a boring logo. Fox TV Channel logo, on the other hand, is quite nice and so are the Star TV family of logos.
3. Walt Disney Co.
The Walt Disney Company founded on October 16, 1923, by the Disney brothers, Walt and Roy Disney is one of the biggest Hollywood studios. Led by CEO Robert Eiger, it includes several television production companies, cable networks, motion pictures and theme parks. With revenue of $37.8 billion, Walt Disney dominates virtually the whole of the children media sector including television, cinema, DVD, merchandising, theme parks, apparel and more. The logo is awesome too. Disney logos all use the unique script font and various images, cartoon characters (such as Mickey) etc depending on the sub-brand.
4. Comcast Corp.
Comcast Corp. provides broadband cable networks and is founded by Ralph J. Roberts, Julian A. Brodsky, and Daniel Aaron in 1963. The company has more than 24 million cable customers, about 15 million high-speed internet customers and 6.5 million voice customers and an annual revenue of $30.8 billion. The logo is made up of a red C surrounding the C of Comcast. Not sure what to make of it. The planet? A cross section of a cable? Yes perhaps. That sounds like the most plausible explanation.
5. Google
With a brand value of $100 billion and revenues of $21.7 billion Google dominates the internet like none other. Co-founded by Larry Page and Sergey Bin in 1998, Google now has more than 20 thousand employees and has proven to be an innovative company in terms of the web. Though the Google logo looks quite dated and reminiscent of the 90s, it shows the belief in simplicity that is at the core of the search engine and its various services. You can take some logo design lessons from Google.
6. DirecTV Group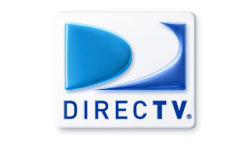 DirecTV Group,with $4.9 billion revenue, is one of the leading providers of direct broadcast satellite television to US customers in businesses and homes. It is also a provider of multichannel video programming distribution in the United States. The DirectTV logo is simple yet quite effective and hints at the letter D, a satellite dish, the planet and more. Nice.
7. Dish Network Corp.
Founded by Charlie Ergen, Dish Network markets its home satellite, EchoStar, under two different businesses, EchoStar Broadcasting Corporation and Dish Network Corporation. The logo is again something that looks like it was designed in the 90. It is nice though and has a nice icon of planetary rings around the word Dish and the "I" has some sort of radar waves.
8. CBS Corp.
CBS Corporation is a mass media company and operates the CBS Television Network and about 40 broadcast television stations and 15 of the top 20 US markets, including 21 stations owned and operated by CBS. CBS logo is quite a classic and was designed by William Golden who was inspired by an article on Shaker art that ran in Alexey Brodovitch's Portfolio Magazine.
9. Omnicom
Omnicom is the number one holding company in the world today in global marketing and corporate communications and includes DDB Worldwide, BBDO, TBWA Worldwide advertising agency networks. The Omnicom logo is the simplest of the lot with just the company name in a non-serif modern font. The words Omnicom and Group are distinguished by the thickness of the font.
10. Viacom
Viacom, headed by Sumner Redstone, is one of the top ten media companies. Viacom produces and distributes TV programs for three largest networks, owns 39 television stations, owns 185 radio stations in the Infinity radio group, as well as having more than 1,500 affiliated stations through the CBS Radio Network. Viacom also produces feature films through Paramount Pictures. The Viacom logo is a simple text based logo in a nice modern font treatment.