Dentist Logo Design | Dental Logo Design | Dental Clinic Logo Design
Award Winning Design Team
Over 20 Years Experience
Creating Dentist Logos
Dental Logos | Dentist Logos
Logos have always been a part of businesses' branding campaign, but what happens when one's logo looks just like any other?
That's exactly what's happening in the dental industry. Dental logos need revamping – fast! If you've noticed, there's little differentiation among many dental logos that you'd think they're done by the same hand. If you want to stand out from competition, then you have to create a great first impression.
Overused Dental Image
When it comes to creating dental brands, designers typically use images that are related to the dental profession. These include a tooth, smile, and toothbrush. That's three images and you have like tens of thousands of dental practices around the world to use them. Not surprisingly, the images have become overused and have looked strikingly similar to each other.
The challenge logo designers are facing is how to make their design fresh and unique. One approach is to put a unique spin on traditional images. Here are some examples.
Dental Logo Design Basics
It's clear that you need to create a dental practice logo design that stands out. However, you still have to make sure that it is appropriate to your client's target market. Dental clinics are an object of fear for many. An effective logo removes the element of fear and establishes an element of trust. It should make patients feel like they can trust a practitioner to resolve their dental woes. Here are some basic features that logo designers should consider:
Color. You would want calming and soothing colors – nothing bright, nothing bold. Colors can communicate to patients a lot about the kind of service you give. Some dental clinics use red and pink – the colors of tongue and gums. However, these colors also remind patients of blood. If you don't want illicit negative emotions in your patients, then you should avoid these colors. Some clinics use black and white to evoke formality and tradition. Unfortunately, many end up looking austere and dreary. If you want a more inviting atmosphere, go for light blue or green colors. White is also great for communicating hygiene or cleanliness.
Keep the color combination minimal. Excessive use of color can make your dental practice logo design look cluttered, confusing, and unprofessional.
Font. Your choice of typeface can very much influence the mood or atmosphere your dentist logo conveys. Typeface style and size can give an impression of playfulness, modern, classic, bold, etc. While projecting an image of professionalism is important, you don't want to appear cold and uninviting. The logo designer has to find that subtle balance between friendliness and professionalism.
Symbols/images. Most dental designs are a combination of texts and symbols. As already mentioned, there are only a few symbols you can use, and these symbols are already overused. Again, the challenge is to make it new and interesting. Just make sure to include symbols that communicate care, concern, and wellness. If it's a dental clinic for children, then cartoonish illustrations would be more appropriate.
Versatility. The logo should look good on a small scale (e.g., email, document) as it would on the dentist's signage.
Some final words. Talk to your client before starting your logo design. Know their target patients, their business goals and objectives, how they would like their patients to perceive their clinic. Do they want to look affordable, child-friendly, or professional? Create as many logos as possible and present them to your client. Let them pick the final design.
Use an illustrative logo. This is especially important if your practice includes children. Most people feel intimidated by dental visits, and a text only logo will not do anything to relieve this anxiety. Having a friendly illustration in your dental logo will make your practice seem more welcoming. A friendly illustration could include happy people, animals, or rounded shapes. Nature scenes are also calming, although it can be hard to make these images fit the dental industry. Whatever illustration you choose, it is sure to be a benefit to your business. Illustrative logos tend to help with logo branding by allowing your community to give your business a 'face'. Most people will remember a business with an original and appropriate dental illustration.
Avoid clichés. In general, teeth and toothbrushes are over-represented in the dental industry. While a quality graphic artist can make even the most generic symbol new and interesting, your best bet is to choose a unique way of showing your field. A qualified graphic designer should be to produce several design ideas that fit your business and your community. This will make your logo stand out in the community and in the minds of customers.
[cq_vc_gallery images="24251,24255,24252,24257,24253,24254,24256″ onclick="link_no" itemwidth="539″ offset="14″]
There is perhaps no field that needs marketing and logo branding as much as dentistry. Most people have negative feelings toward the dental field and dread making their appointments. A high quality dental identity that follows basic principles of good design will help potential patients feel more at ease, which makes them more likely to choose your practice over others. There are a few things a high quality graphic designer can do to make your dental logo more effective.
Top 10 Dental Product Logos
Everyone wants perfect teeth; the difference is the product that we believe will give us this attractive feature. Many people choose a product based on brand loyalty, based on the promise made by the logo and the marketing campaign. This makes dental related logos very important because a lot percentage of customers are making choices based on this alone. Here are the health logos of ten of the most popular dental products in the United States and how these images have contributed to the product's success.
1. Aquafresh Dental Product Logo Design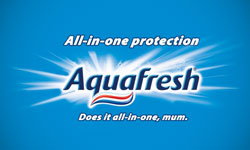 This toothpaste's logo shows what makes the brand unique along with using one of graphic designs most expressive objects: the wave. In this case, the wave expresses that the brand is forward thinking, but it also is in the three colors of the toothpaste. The writing is rounded to give a friendly and inclusive feeling. Altogether, few people would think about what this logo is trying to say, which makes it all the more effective.
2. Scope Dental Product Logo Design
An inclusive circle is used as the primary shape of this logo, with bold, blue letters in a slightly slanted font that implies movement. Green fluid identical to that inside the bottle forms an ocean-like wave. Two mint leaves show the flavor of the mouthwash, bolstered by a predominantly green color scheme. The image is refreshing and cool, which likely inspires many consumers to give it a try.
3. Crest Dental Hygiene Logo Design
Crest uses blasts of light to give a clean, bright image that is very congruent with the clean teeth that many people want to have, A single red letter is used to get attention, while the other letters are a calming blue. The background of the dental hygiene logo is also blue and soothing. The letters are extremely thick to show strength, but slanted slightly to give a feeling of movement.
4. Crest Pro Health Dentist Logo Design
This is a product made by Crest that has a unique brand all its own. The familiar Crest logo is used, but there are additional images that emphasize this toothpaste's difference from its mother brand. First, the seal of the American Dental Association is displayed prominently and even backlit. A thick white strip showcases the product's whitening abilities, while the benefits of the toothpaste are listed to the far right of the dentist logo. This dentist logo is similar enough to the original Crest image to maintain the brand while clearly showing how it is different.
5. Crest Whitestrips Dental Product Logo Design
Another Crest product? This one also has a logo that is unique while maintaining a connection to the mother brand. The word 'Whitestrips' is written in a slightly thinner version of the font used for traditional Crest products. A star dots the 'I', showing consumers how shiny and bright their teeth can be with the help of the product. The calming blue color palette includes the two signature blues used in the Crest logo, as well as lines to give a sense of movement.
6. Arm & Hammer Dental Health Logo Design
Baking soda once was a popular substitute for toothpaste, so it makes sense that this manufacturer would make toothpaste. Not only does Arm & Hammer include their classic round logo with an arm and a hammer inside, they also have the product written in a calming bright blue along with a calming river and a mint leaf to the right. Rivers imply purity, while mint refers to the flavor used in these toothpastes, making this an appropriate image.
7. Tom's of Maine Cosmetic Dental Logo Design
This all natural toothpaste offers a very different product from the pack and a very different logo as well. Instead of focusing on the brand name, the cosmetic dental logo is in the shape of an inclusive circle. The words 'natural care' are the only hint at what sets this product apart from the others, but they are prominently displayed at the top of the logo where viewers cannot miss them. Like many toothpastes, Tom's uses a clear, clean blue, adding a touch of brightness as well as a calming feeling, rather than a green or other earthy color. Photographs on the package indicate the flavor.
8. Mentadent Dental Clinic Logo Design
The Mentadent dental clinic logo also uses blue to impart a feeling of calm, but it uses other design principles as well. The writing is surrounded by a circle, which makes it feel friendly to the toothpaste consumer. The writing is slightly slanted to give a feeling of movement. While this logo is hardly different and unique, it nonetheless uses some of the best principles of dental clinic logo design, including using shape and color to convey an image. Sometimes simple dental clinic logos are the most effective.
9. Act Dental Office Logo Design
This mouthwash is one of few to maintain both a successful line of mainstream mouthwashes as well as a line just for kids. Part of this success is due to the versatility of the dental office logo. The circular dental office logo shape is seen again, along with the comforting blue. A banner comes out from the bottom of the circle, creating a sense of movement while giving room for a short explanation of the product's use. Instead of using blue letters, a blue background with white letters is used. In the children's product, the word 'kids' is written in boldly colored, childish lettering that appeals to the target audience.
10. Aim Dental Care Logo Design
Again we see the attention getting red along with calming soothing blue. However, Aim has chosen to use a more authoritative font, a newsy lettering with serifs and thick letters. The red dot on the 'I' emphasizes the circular shape, another friendly touch. This also reminds viewers of a bulls eye, which ties directly in to the name.
As you can see, there are several trends in dental product logos for dentists. The color blue and circular shapes are seen in almost all of these dentist logos. While these logos may seem rather similar, there are subtle cues that customers pick up on, building brand loyalty and educating the customer about the aim of the product. Because these are the chief duties of a dentist logo and branding in general, it's easy to see why dental products are a lucrative and ever-growing field.