Construction Logo Design
Builder Logo Design
Award Winning Design Team
Over 20 Years Experience
Creating Construction Company Logos
Client: Chateaux World Classic Homes
Type Of Project: Logo Design
Client Location: Paris, France
Design Analysis: Chateaux World offers a bespoke seek, find and buy service to its clients. They match your requirements with chateaux available on the market place both privately and through all main specialized agents, that are at realistic prices. Chateaux-World will create a short list of properties sourced from an extensive international network of agents, bankers, Notaires and private vendors.
Chateaux-World then will facilitate reviews of the shortlisted properties and take clients to visit the most suitable in the shortlist. Chateaux-World Directors are accustomed to dealing in legal French which even the French find difficult to understand!
To communicate the classic luxury homes and castles that the brand deals with, we created an old heraldic regal crest based shield logo design incorporating the regal coat of arms and a beautiful ribbon and knights helmet on the top to create a striking emblem logo design.
Client: Asplins Bespoke Kitchens
Type Of Project: Logo Design
Client Location: Dorset, UK
Design Analysis: Bridport Kitchen, Bathroom and Bedroom design and installation specialists – Asplins, with over 16 years experience in general building, property development, restoration, and refurbishment were set up to specialize in internal renovations and modern design.
Whether it is installing a new kitchen, revamping a bathroom or fitting bespoke wardrobes in those awkward alcoves in the bedroom, Asplins takes care of everything from conception to completion.
For this client, we created an awesome looking custom hand illustrated dragon head in a simple and abstract shield crest flanked by leaves and supported by a regal font treatment to give the look of luxury and upscale service.
Client: Home Inspectors Network
Type Of Project: Logo Design, Brand Identity
Client Location: Memphis; Tennessee
Design Analysis: The Home Inspectors Network website is a database of over 20,000 local home inspectors throughout the United States allowing home buyers to quickly and easily find a home inspector. The site enables a home inspector to provide a myriad of information about themselves including but not limited to: logo, picture of themselves, blog, picture of home inspector horrors. Clients will also be able to leave reviews of their business as well.
The client wanted an "internet style" design for their logo and one that indicated that the business was internet based. To achieve this we created an icon of a magnifying glass showing a house with the door open. Although it may seem like a cliche to use a magnifying glass, for this brand it is very apt. When designing a logo, it is not about not using cliches. It is about using whatever design element that suits the brand and the target audience.
Client: DeGeorge Home Builders
Type Of Project: Logo Design
Client Location: Columbia, PA
Design Analysis: DeGeorge Home Builders is a local construction company Columbia, Pennsylvania serving the local community through honesty, integrity, and affordability. With quality and craftsmanship as the foundation pillars of how they serve their customers, DeGeorge managed to become a leading construction company in the region.
As they grew, the client decided they needed a proper brand identity and a way to communicate their value proposition to other regions of PA. To this end, they wanted a cute and fun looking using a recognizable symbol such as a house. We create a roof icon with 4 windows showing and a chimney and tweaked the corners to be soft to give off a friendly vibe. The choice of the font was also deliberate to evoke a sense of fun, family, and honesty. The overall logo while simple and obvious creates a great impression and impact.
Client: Coorpi Construction Management
Type Of Project: Logo Design
Client Location: Baltimore; Maryland
Design Analysis: Coorpi Construction Management is a company pushing the boundaries of construction project management and resource allocation. With innovative management processes and modern outlook on the age-old tradition of construction task allocation to vendors and suppliers.
To communicate this the client wanted a non-traditional and abstract logo design utilizing the letters C and O. We also tried to depict the process of transformation in both the icon and the lettering. In the icon itself, we see horizontal lines in the letter O to represent blinds which are a new business direction that the brand was taking.
Although the primary color is chosen was brown, the icon and logo work well in any color combination.
Client: Shannon Contracting LLC
Type Of Project: Logo Design
Client Location: New York, New Jersy
Design Analysis: Shannon Contracting, Inc. is a New Jersey-based general contracting and construction management firm, serving the New York, New Jersey, Connecticut Metropolitan area. They are a leading boutique Construction Management and General Contracting firm, providing a full range of construction services to their clients for projects of varying scope, budget, schedule, and complexity.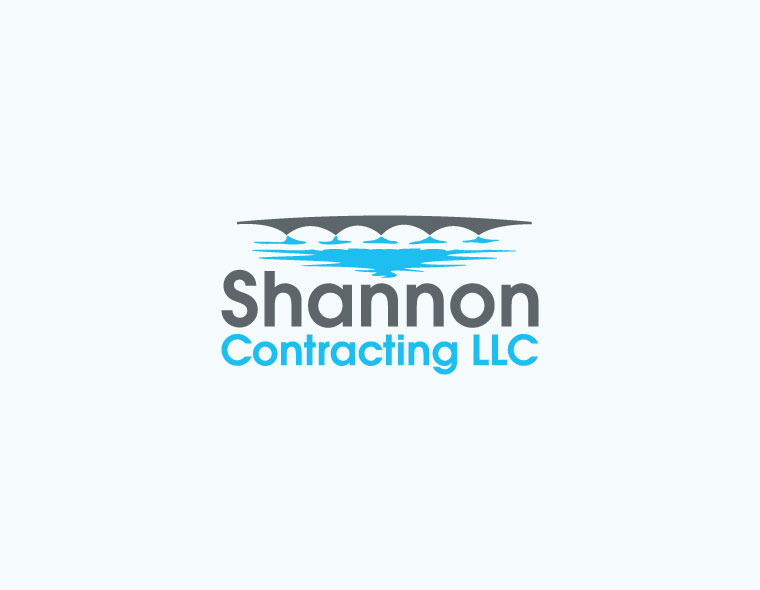 Their experience includes projects from various sectors including residential, commercial, retail, education, hospitality, hotels, restaurants, foods, healthcare, Pharmaceutical & Research Facilities, and churches.
The client wanted a logo design that rose above the rest of the contracting industry brand marks and the result was a stunning logo design showcasing the Yonkers bridge in an abstract and elegant way.
Client: M2 Design & Build
Type Of Project: Logo Design, Brand Identity
Client Location: London, UK
Design Analysis: M2 Design Partnership brings together the key construction professionals to make a project happen successfully under one roof. Architectural Design, Structural Engineering, Environmental Impact, Construction and Project Management. M2DP is an architectural design company with a construction arm operating throughout the South East. The build teams are rigorously licensed to operate as M2 CONSTRUCT and are project managed in house.
We had worked with this client in the past and created brand identities for two of their companies. Now the client wanted to combine the two brand into with a new name and brand identity. We decided to create a line art icon of a house being built in an abstract way. This goes well with the client's focus which is architectural design as well as construction project management.
Barony Homes Logo And Website: You'll see the quality throughout their developments whether it's a first-time buyer semi-detached home or an exclusive 6 bed detached mansion, Barony caters for all aspects of the market. They pride ourselves on well spaced, generously proportioned bright living areas in all their developments. To reflect this, the company commissioned SpellBrand to create a stunning heraldry logo and a very modern looking website that is clean and spacious much like their developments.
About construction logos and brands
Having professional, eye-catching logo design is so important for any construction business. They not only tell your customers valuable information about your company, these images communicate with the subconscious mind and tell prospective customers whether you are reliable and honest.
When you are looking for a construction company, where do you turn? Many people turn to friends, family, and colleagues to get a recommendation. Others ask for references and bids and make their final decision based on fact. A last and significant portion of people looking for a construction company simply choose a business that seems reputable and trustworthy, often going with their intuition.
There are several things that make a brand mark successful. And construction companies can think outside the box too when it comes to logos. First, it should be industry related. Companies in this sector regularly use shapes and images that are associated with building, such as house shapes, tools, and even squares. People should be able to look at your logo and tell exactly which business it represents.
Second, it must make the business seem established and reliable. This can be accomplished by using certain shapes. The square is often used, not just because it is related to building, but because it is a solid shape that feels strong and reliable. Triangles are also commonly used because, as nature's strongest shape, they evoke the image of strength and power.
Good use of shape makes for more than just an attractive picture. However, font use is also important. A square font with thick letters feels strong and steady, while a scrolling font offers a more elegant image. Rounded letters make people feel included and befriended, while 'newsy' fonts with serifs seem serious and honest. The image that you are trying to portray can be successfully put across with your choice in font, making this a very important item to discuss with your graphic designer.
Colour is also an important part of construction logo designs. Because there are so many construction companies in London and in the UK, your choice of colour can be used to draw attention to your logo. Reds, yellows, and bright oranges all attract attention while subtly suggesting the brightly coloured designs commonly seen at construction sites. Using these, a more calming colour palette, or even black and white can all be successful under the guidance of a professional logo artist.
Construction logo designs may seem complicated, but a qualified and experienced logo designer will be able to advise you on the topic and create a logo that is perfect for you and your company. This will tell potential customers and the community about what your company has to offer and give you the advantage you need to build your business. Having a well designed, professionally crafted logo can help your company move ahead while having an unprofessional one or none at all will hold you back. And don't forget to check out this article that we write about building your construction brand!