Blog Writers &
Publishers Logo Design
Award Winning Design Team
Over 20 Years Experience
Creating Blogger Logos
[cq_vc_gallery images="23684,23689,23688,23687,23686,23685″ onclick="link_no" itemwidth="539″]
Blog logo Designs | Blogger logos
When designing a blog logo design for the blogging community it was important to understand that for the most part a blog is content driven. Because of the type based nature of a blog web site it can be very difficult to grab a readers attention and interest. The blogging community has such as large number of competing bloggers that having a solid logo can help grab the interest of a potential reader and lead them into the content creating potential blog subscribers.
Writer Logos | Publisher Logos
As any writer will tell you, it is getting more and more difficult to make a living in writing today. Writers can no longer rest on their work alone; they must present a brand that makes editors and readers feel just a little more interested in them. For this reason, writer logos and publisher logos are both becoming more common.
If you are new to the word of branding, you likely are curious about what makes a blog logo design perfect for a writer or publisher. Because this is a creative, diverse, style oriented field, there are a huge variety of different logo styles. There may be as many styles of writer logos and publisher logos as there are writers and publishers, but most follow a few guidelines.
Creative Font. Generic wording just won't do for people who live by their words. Writer identities tend to have very creative fonts, from scrolling cursive lettering to wording that looks like it came out of the Space Age. If you take the time to communicate your personal style to your designer, they will know how important words are to you and make sure that the words in your blog logo design do you justice.
Careful Color Selection. Color is important in all logos, but especially so in creative ones such as writers and publishers identities. Nothing will affect the mood of your logo so much as the color combination. If you want a modern and sophisticated feeling, black and white may be an appropriate and elegant logo design choice. However, using lesser used colors such as orange or purple can make your logo stand out while marking you as creative. Whatever your genre, there is sure to be a color choice that will create a beautiful and expressive logo.
Image and shape. Writer and publisher brand marks often have images and shapes that reflect their genre, but this is not by any means a rule. You can also choose to use an image that is related to literature or the field of writing, such as a book, a pen, or a quill. If you prefer a more abstract design, designers are experts at creating images that invoke particular emotions while also being subtle and beautiful.
Once you have a company logo design created, you should consider having stationery designed as well. Sending out queries and other communication on professional quality letterhead will set you apart from your less professional competition. Because many people skip this important step, it can really make you stand out as a professional in your field.
Is professional branding necessary for success? They may not be completely necessary—there are certainly good examples of success stories who have done without them—but they certainly give you a leg up on the competition. If you are ready for a professional image that other people take seriously, talk to a designer today about what kind of logo will best represent you and help you stand out in your field.
Writer Logo Design
Every company seeks to differentiate itself from its competition. Through varying marketing concepts, segregating the target demographic to serve each segment individually and of course making a strong brand image. Logo Designs of a company become icons which consumers can relate to and identify the company with. Here is a simple walkthrough of how one might go about creating a logo for a writing company.
The first step is to determine what the target audience is. In this case we will say the company specializes in writing original website content and is an independent contractor. The target audience of the logo are companies who look for professionalism, accuracy, and a high degree of readability. We will look at a fictional company called Archimedes writing.
Archimedes is the name of a Greek writer who was also a philosopher, mathematician and engineer who is considered one of the great minds of classical antiquity. The name itself conjures images of books and reading for many people. Because the company expects it's clients to be well educated, it is assumed they would understand the reference.
We have a large base of ideas we could use for the publisher logo. The company will want to stay with something that conjures the written word. The word Archimedes should be incorporated with a strong bold font. Because the writer logo design will likely be on a website, it should work at different sizes, and should be distinguishable in each size.
So in short, the writing company logo design, for the sake of argument, is a sphere with the capitol letter "A", over the top would be the word "Archimedes" and on the bottom of the sphere would be the name of the company. It would be plain, just black on an off white field, to represent parchment. The icon for the website would be simply the sphere with a letter A inscribed on it.
This image is one that is exact and professional, the type of image the company wishes to convey to the target market which is likely well educated and who know exactly the type of writing they require. The image is strong but not over stated, as they are a contractor or subcontractor who specializes in creating content for websites. They do not need an image for the public at large, hence an understated color scheme.
When the business interacts with prospective clients, they can put the writing company logo design on various office supplies they might give to prospective clients such as pens or note pads to keep their company name in mind when looking for a writing team.
For smaller companies the use of a logo is the mainstay of their advertising strategy. Usually these companies grow through word of mouth, gaining a following by their reputation alone. The only part of the company some can latch onto other than the idea is the logo. This logo has to say volumes about a company, because the company's image is the logo.
Strong writing company logo design is great way of establishing their business image, especially when advertising budgets are small or non-existent. So keep that in mind when designing a logo, and remember for some people it will be the only thing they know about your company.
Top 10 Web 2.0 Blog Logos
A collection of the top 10 web 2.0 related blogs and their logo designs. Web 2.0 technology is here to stay and every day we see a new web 2.0 start up offering a new service or an old service in a better way. Since the advent of Web 2.0 era, the web has become more useful. It is now possible to run your business entirely by using web 2.0 services offered online including managing your publishing, company accounts, ecommerce and more.
This week we take a look at the top 10 web 2.0 blogs and their company logos. We do not review the logos but merely list them as a show case. If you would like to pitch in with your own recommendations, please do leave a comment in a similar format as you see below. You can even use the "img src=" code to show the logo. The logo has to be 250px wide and 150px high.
CenterNetworks
CenterNetworks is a blog on the "new" Internet with news, reviews, interviews and conference coverage helping industry professionals learn more about social networking, Web 2.0, and social media.
Visit Site
Crenk
Crenk is a blog reviewing the newest and best web and mobile apps on the web with insights and analysis on some of the hottest topics from around the net.
Visit Site
DownloadSquad
DownloadSquad is a blog profiling some of the best web apps around. Publishing more than 30 reviews every day, this blog provides a comprehensive review style.
Visit Site
Go2Web20
A blog by Orli Yakuel, Go2Web20 is the largest online directory for Web 2.0 applications worldwide. It showcases not only web 2.0 applications but also the web 2.0 logos.
Visit Site
Mashable
Mashable is the world's largest blog focused exclusively on Web 2.0 and Social Media news reviewing new Web sites and services, publishing breaking news on what's new on the web and offering social media resources and guides.
Visit Site
Profy
Profy is a blog where technology news and commentary are presented by Svetlana Gladkova giving us a Russian point of view on the latest social networking trends, business technology logo advancements, Web 2.0 startups, breaking news and in-depth reviews.
Visit Site
ReadWriteWeb
ReadWriteWeb is a blog that provides Web Technology news, reviews and analysis and is now one of the most widely read and respected blogs in the world written by a team of Web enthusiasts.
Visit Site
Smashing Apps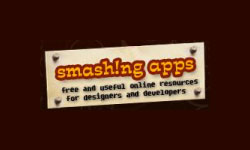 A blog dealing with Web 2.0 technologies, list of the best services, best applications, best resources and bet tips and tricks.
Visit Site
Social Times
Nick O'Neill tries to build social capital within the social web economy by discovering news and interacting with others in the community, while furthering awareness of the products and companies that shape the social web.
Visit Site
The Next Web
TheNextWeb.com is a blog that writes about everything that influences the future of the Web, by profiling interesting products, start-ups and existing companies that are building The Next Web.
Visit Site
How to design a blog logo design
When designing a logo for the blogging community it was important to understand that for the most part, a blog is content driven. Because of the type based nature of a blog web site, it can be very difficult to grab a readers attention and interest. The blogging community has such as a large number of competing writers that having a solid logo can help grab the interest of a potential reader and lead them into the content creating potential blog subscribers.
This particular client runs a blog that publishes blogging tips, technological news, and computer and internet directed content. The client came to us with the hopes of recreating the brand identity for QUICK ONLINE TIPS and help draw in new readers with a fresh, new look. With no specific direction, we came up with distinct concepts that fit with the type of look and style that could help bring in readers.
For the first concept, we took the theme of "quick" and create a theme based on the concept of time. Using very detailed gradients a realistic pocket watch was created. In order to create the high gloss look of the silver on the watch, a high contrast gradient from black to white was utilized. To get the beveled look where the glass meets the silver, two gradients moving in opposing directions create a sharp change in form which gives the illusion of an edge. For the glass, the illusion of transparency was created by softening the color of the watch face from black numbers and elements to a light grey. This creates the feeling of a light reflection blurring the image below the glass.
The overall design of the concept follows the horizontal layout of the web site. The high impact image of the watch helps lead the eye up and across to the name. The completed look conveys a very modern and professional look which helps reflect the content in the blog.
For the second concept, the inspiration of time, quickness, motion, and energy were utilized in a semi-abstract design which also symbolizes the initial "Q". Using the initial as the imagery for the design gives the icon element a specific and unique relation to the name. The addition of the sweeping lines and arrow helped to give the initial extra meaning and context. The use of gradients further enhances the image creating a 3D polished look for a communication logo design. Using gradient in an opposing direction creates a high-gloss beveled effect that adds a nice sharpness to the image.
The clean and modern look of the graphics portion of the design blends nicely with the modern squared text. Placing the text onto 2 lines and bolding the word "QUICK" creates a focus on the idea that this blog is placed to come for the most up to date news and tips.
For the last concept, a softer and generally more inviting sample was created. Using a combination of bright high-gloss colors and a friendly bold text, this concept was designed to invoke a sense of warmth and belonging. The image utilized in this design is a combination of standard "pixel" pointer arrow and a glassy button. The imagery is very recognizable to avid computer users and developers and creates the idea that all of the information, tips, and news they need is just one click away. To achieve the high gloss look and the sense of depth, gradients were placed in a manner that would optimize the sense of light and shadow. This creates a more realistic look for what would normally be a very flat and ordinary computer element.
By creating a design that has an element of fun and whimsy while keeping the overall imagery relevant to the industry, the feeling of excitement and interest can be utilized to its maximum potential. Bright colors and a high impact design can really help to distinguish a page full of type from its competitors.
Previous articles in this series
How to design a communications Web 2.0 logo design
How to design an advertising logo design
UPDATE: Here is the black and white version of the logo for faxes, photocopying, etc.